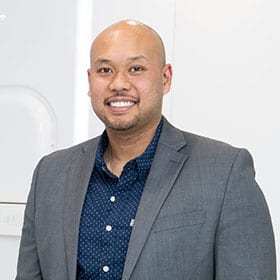 BSc (Bioinformatics), M.B.B.S (Honours), FRANZCR, Radiation Oncologist
Special clinical interests are upper GI, urogenital, lung, breast, head and neck and stereotactic radiation therapy.
Jeremy completed a Bachelor of Science in Bioinformatics prior to graduating from a Bachelor of Medicine with Honours in 2006 from the University of Sydney. He completed his radiation oncology training at Liverpool, Campbelltown and Canberra Hospitals, followed by a Fellowship at the Royal North Shore Hospital.
Jeremy subsequently took up a staff specialist position at the Illawarra/ Shoalhaven Cancer Therapy Centres prior to joining GenesisCare St Vincent, Sydney as the Clinical/ Program Lead of the MRI Linac leading clinical implementation and protocol development.
Jeremy's clinical interests are upper GI, urogenital, lung, breast, head and neck and stereotactic radiotherapy. Jeremy is the most experienced Radiation Oncologist in MRI Linac Treatments using the fully adaptive Adapt to Shape workflow in Australia, with the GenesisCare St Vincent team having treated the most patients using this technique. The GenesisCare St Vincent team has treated multiple sites using the MRI Linac including stereotactic prostate and metastasis (pancreas, adrenal, nodal and bone), bladder and prostate bed.
Jeremy is an active clinician researcher and investigator in international and national clinical trials. He has also collaborated with the University of Wollongong on PBMC signatures following radiotherapy and has authored multiple publications in peer-reviewed journals.
He has a strong interest in new treatment and imaging technologies to improve patient outcomes and is the Clinical Lead for the MRI Linac at St Vincents Darlinghurst.
Outside of work, Jeremy enjoys time with his family, which usually revolved around food.
MRI Linac
Stereotactic Radiation therapy
Radiation therapy biomarkers
FRANZCR
ANZUP
FROLIC
Breast Cancers Trial Group
AGITG
ALTG
de Leon J, Jameson MG, Rivest-Henault D, Keats S, Rai R, Arumugam S, Wilton L, Ngo D, Liney G, Moses D, Dowling J, Martin J, Sidhom M Reduced motion and improved rectal dosimetry through endorectal immobilization for prostate stereotactic body radiotherapy. Br J Radiol. 2019 Jun;92(1098)
de Leon J, Kneebone A, Gebski V, Cross S, Do V, Hayden A, Ngo D, Sidhom M, Turner S. Long-term outcomes in 1121 Australian prostate cancer patients treated with definitive radiotherapy. J Med Imaging Radiat Oncol. 2019 Feb;63(1):116-123
de Leon J, Jameson MG, Windsor AA, Cloak K, Keats S, Vial P, Holloway L, Metcalfe P & Sidhom M: Superior target volume and organ stability with the use of Endorectal Balloons in Post Prostatectomy Radiotherapy. J Med Imaging Radiat Oncol. 2015 Aug;59(4):507-13.
Jameson MG, de Leon J, Windsor AA, Cloak K, Keats S, Dowling JA, Chandra SS, Vial P, Sidhom M, Holloway L & Metcalfe P. Endorectal balloons in the post prostatectomy setting: do gains in stability lead to more predictable dosimetry? Radiother Oncol. 2013 Dec;109(3):493-7
Roach D, Holloway LC, Jameson MG, Dowling JA, Kennedy A, Greer PB, Krawiec M, Rai R, Denham J, de Leon J, Lim K, Berry ME, White RT, Bydder SA, Tan HT, Croker JD, McGrath A, Matthews J, Smeenk RJ, Ebert MA. Multi-observer contouring of male pelvic anatomy: Highly variable agreement across conventional and emerging structures of interest. J Med Imaging Radiat Oncol. 2019 Apr;63(2):264-271