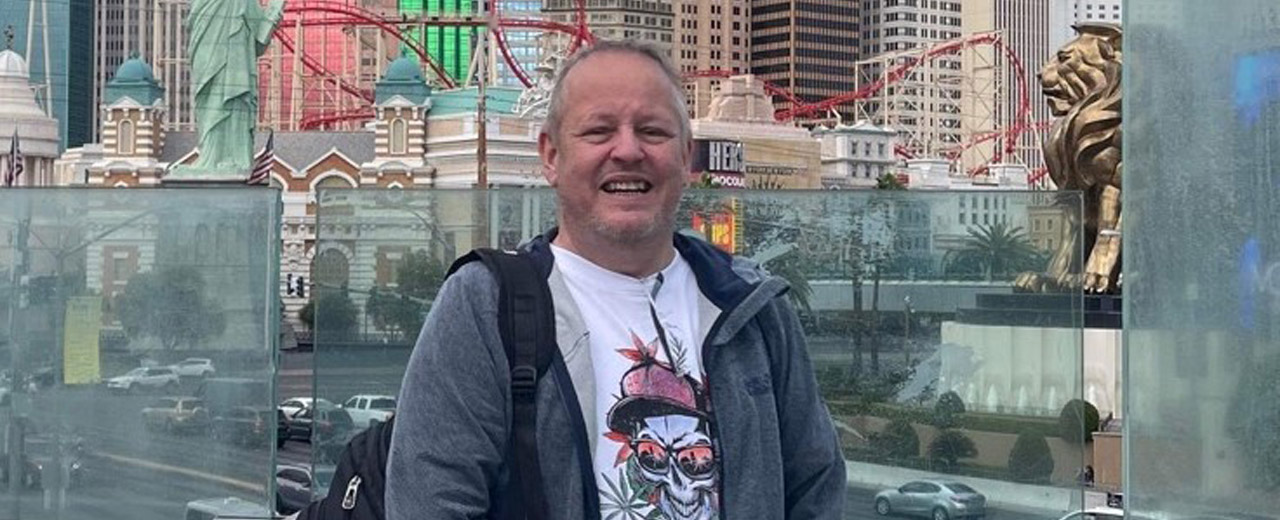 Tony's story – MRIdian radiotherapy for inoperable bowel cancer
Article
Tony was first diagnosed with stage four bowel cancer in the Autumn of 2018.  Here he shares his story, talks us through his treatment journey and tells us how he's getting on with life now.
"It all started when my dad came to visit in August 2018, and the first words he said to me were 'crikey, you look awful!' As I had a routine diabetes check up with my GP shortly after his visit, I asked them and they sent me for a blood test." When his results came back his GP asked him to go straight to A&E.  Further investigations and scans showed Tony had a 17cm tumour which had wrapped itself around the bowel. Of his diagnosis, Tony explains "I was really shocked as I hadn't been feeling ill and hadn't noticed any of the tell-tale signs you hear about. It was quite scary, and it was a big operation to have." Soon after Tony underwent an intensive six-hour surgery to remove the tumour, followed by four months of chemotherapy which ended in February 2019, when he was given an initial all-clear.
Unfortunately, follow-up scans in September 2019 detected a single malignant lymph node tumour that had grown right next to the source of blood supply for the bowel. Due to its location, Tony was told that the tumour was inoperable by his doctors in Worcester. His scans were sent on to specialists in Manchester and Basingstoke, both of which concluded that the highly invasive surgery available would be too great a risk. 
However, Tony's luck changed when his case was transferred to Dr James Good. Dr Good discussed a treatment called Stereotactic ablative radiotherapy (SABR) which is a non-invasive, advanced radiotherapy technique that targets tumours using highly focused beams of radiation. 
Commenting on Tony's case Dr Good, says, "Because the lymph node was surrounded by healthy tissue and moved with breathing, it could have meant compromising on the radiation dose to the tumour if I had used a conventional SABR machine. The MRIdian allowed us to clearly visualise the tumour and switch the radiation beam on and off as the tumour moved, reducing the amount of healthy tissue that was affected and maximising the dose to the tumour."
Tony explains, "Dr Good was very enthusiastic and confident about this treatment. I breathed a sigh of relief that I could access this through my health insurance, especially having been told by my surgeon and two other bowel/cancer specialists that there was nothing they could do. Though at that point, my wife and I had no real expectations and didn't want to get too excited because we'd had so many disappointments."
A few short weeks later, Tony began radiotherapy on the MRIdian machine at GenesisCare in Oxford, where three sessions took place during a single week in February 2020.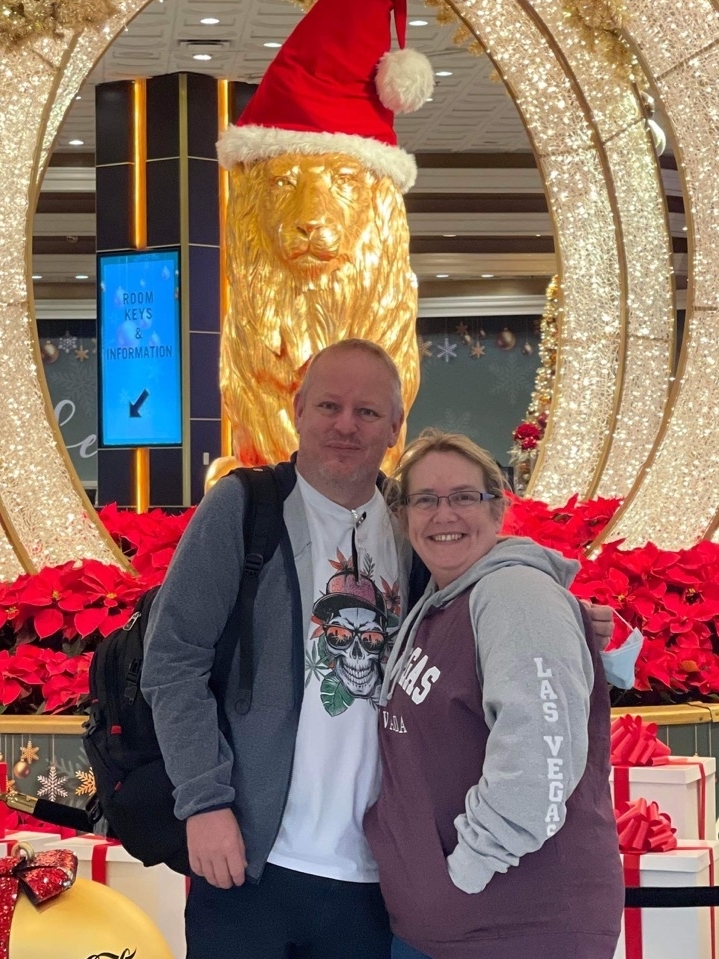 Of his treatment, Tony tells us "I work in IT, so the technology fascinated me. It was like being in Star Wars. There's a scene in the film where they're trying to shoot the Death Star and Luke Skywalker must line his target up on screen. The process was just like that. When I was lying in the machine, I had a screen above me with a red and a blue circle. By holding my breath, I could line the two circles up and it was only when they were both aligned that the machine would 'zap' the tumour. As soon as I breathed, and the circles were out of alignment, the machine stopped. I had headphones on and the people in the control room were providing me with instructions but in effect, it was all under my control".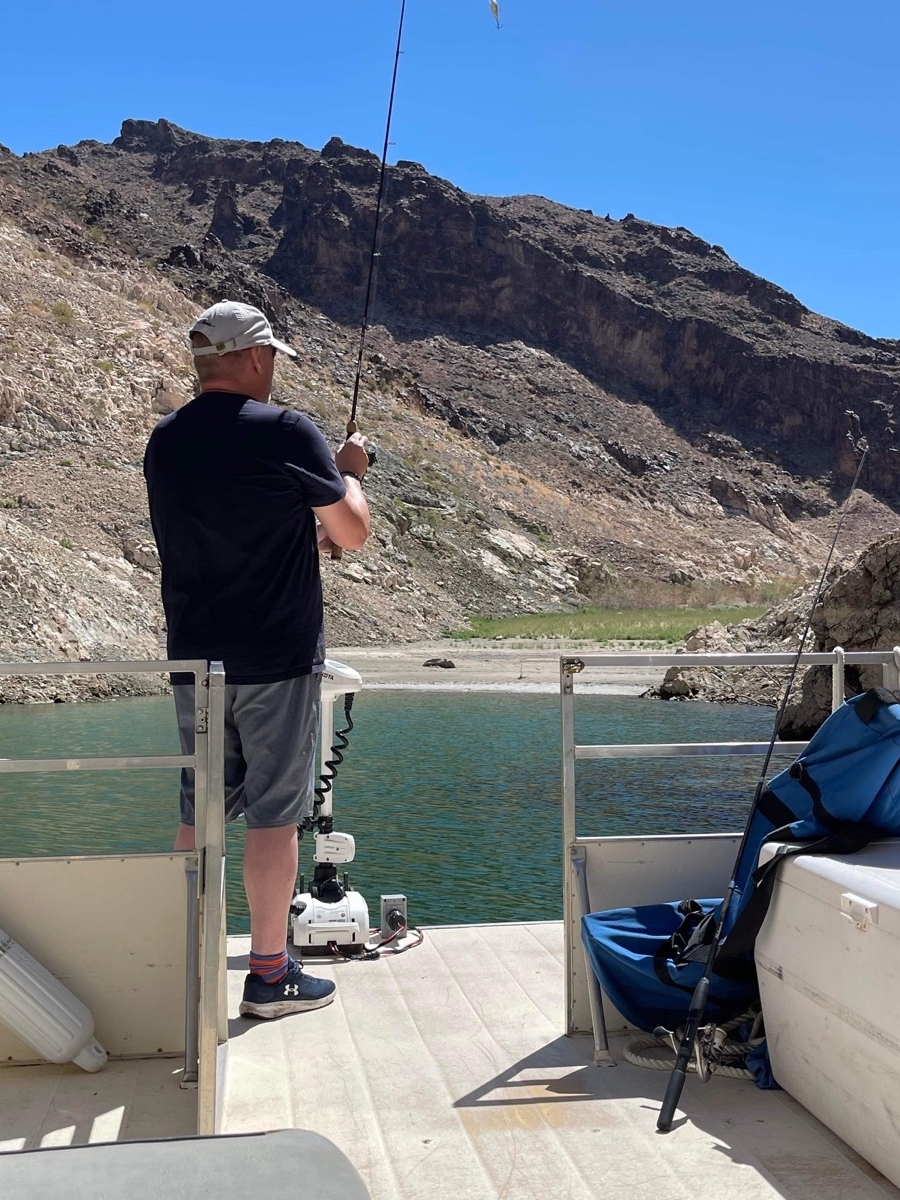 "It was totally unintrusive and felt like a bit of a non-event. I'd actually booked a month off work as I wasn't sure how I'd feel after treatment, but I had absolutely no side effects at all. In fact, the week after, I went fishing and golfing with my two boys".
A PET-CT scan in June 2020 showed that the radiotherapy had been successful in treating Tony's otherwise inoperable cancer, with Dr Good phoning Tony to tell him there was no trace of the tumour on the scan, and that he was in remission.
Since then, Tony's been getting on with his life, enjoying the great outdoors with his family, changing jobs and holidaying in Las Vegas - even hitting the jackpot!
For someone that has faced the prospect of inoperable cancer, Tony says he would encourage anyone in his position "to move hell or high water to find out about all the treatments that are available. I'd also advise anyone feeling a little off-colour or not as chipper, as usual, to go and see their GP. I know it's not always easy but don't be scared because if they do catch anything, the sooner they do, the easier it is to fix it. Don't be afraid, get in there and get yourself sorted!"
Tony concludes, "I now have an annual blood test where they look at my marker levels for bowel cancer and an annual CT scan with my surgeon. I've just received a letter confirming my marker levels are still stable which is great news! There's always a worry at the back of your mind but two years on from my treatment on the MRIdian and I'm looking forward, not backward and things are looking good.  We've been away for two fabulous holidays, I've seen my daughter graduate, my eldest son has just finished his apprenticeship and my youngest is just starting work so there's many things I've been able to enjoy that I didn't think I would be here for, and I'm so grateful for that."