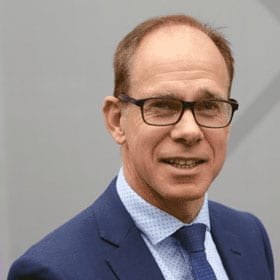 MbChb, MRCP, MD, FRCR, Clinical oncologist
Expert in
Breast, urological, prostate, bladder, colorectal and colon.
Prof Robert Thomas is a Consultant Oncologist at Addenbrooke's and Bedford Hospitals, a visiting Professor at Cranfield University and a clinical teacher at Cambridge University. He is the author of the book "Lifestyle after Cancer", Chair of the Exercise Expert Advisory committee for Macmillan Cancer Support and Editor of the lifestyle and cancer website Cancernet.co.uk. He designed the UK's first government approved the course for a qualification in cancer exercise rehabilitation. He directs an active research unit, which has designed several UK studies, published 75 scientific papers and presented over 100 abstracts at international conferences.
Prof Thomas is a patron of the National Confederation of Survivorship Charities. He is an editorial member of the National Cancer Research Complementary therapy Research Committee and National survivorship committee. In 2001 he was voted Hospital Doctor Magazine "Doctor of the Year" and in 2007 The British Oncology Association's "Oncologist of the Year".
Current position(s)
Consultant Oncologist, Addenbrooke's and Bedford Hospitals
Visiting Professor, Cranfield University 
Clinical teacher, Cambridge University
Interests
Breast, urology, and colorectal cancers managed with hormone therapy, chemotherapy, biological therapies and radiotherapy. Special research interest includes the evaluation of diet, lifestyle and self-help strategies after cancer.
Patron of the National Confederation of Survivorship Charities
Editorial member of the National Cancer Research Complementary therapy Research Committee and National survivorship committee
Voted Hospital Doctor Magazine "Doctor of the Year" (2001)
The British Oncology Association's "Oncologist of the Year" (2007)