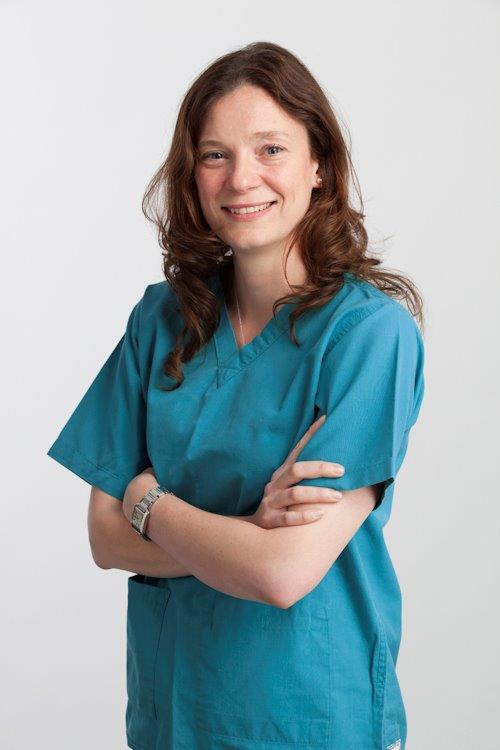 MBBS FRCS MD, Consultant Oncoplastic Breast Surgeon
Karina Cox MBBS FRCS MD is an experienced breast cancer surgeon. She was appointed as a Consultant Breast and Oncoplastic Surgeon at Maidstone and Tunbridge Wells NHS Trust in 2011.
She is also an Honorary Senior Lecturer at The University of Kent and the incoming chair of the Association of Breast Surgery's Clinical Practice and Standards Committee.
Karina graduated from Imperial College School of Medicine at St Mary's in 1998 and completed her basic surgical training in London. She then spent two years as a clinical research fellow at Imperial College London investigating the function of immune cells in lymph nodes draining breast cancer. Following on from her research, she continued her training as a general surgeon with The London Deanery before sub-specialising in Breast and Oncoplastic surgery.
In 2009, she was awarded the National Breast Oncoplastic Fellowship in Manchester. Prior to her current appointment, she spent six months as a locum Breast and Oncoplastic consultant at The Royal Marsden Hospital.
Karina is part of a research group developing new ways to image and treat lymph nodes in patients with breast cancer and is the chief investigator of 2 clinical trials. She also works collaboratively with scientists in the School of Biosciences at The University of Kent and maintains an interest in the link between lifestyle factors such as diet and exercise and breast cancer risk and survival. She is also Chair of the Trustees at the charity Breast Cancer Kent.
As a surgeon, she is fully trained in breast reconstruction and advanced breast conservation as well as surgery to symmetrise the breasts after cancer treatment. She is also experienced in cosmetic breast surgery including improving the appearance of the breast after surgery and radiotherapy.
Current position(s)
Consultant Clinical Oncologist, Oxford Cancer Centre, Oxford University Hospitals NHS Foundation Trust
Universities
University of Cambridge and trained in Oncology at the Oxford Cancer Centre
Senior Clinical Research Fellow at the University of Oxford
Interests
Breast Cancer Diagnosis
Benign breast disease diagnosis
Breastfeeding problems including mastitis and abscesses
Breast Pain
Hormonal breast changes
Treatment of armpit lymph nodes in breast cancer
Breast cancer surgery
Benign (non-cancerous) breast surgery
Breast Reconstruction.
Breast symmetrising surgery
Cosmetic breast surgery
Improving the appearance of the breast after surgery and radiotherapy.
Advanced breast conservation for breast cancer including chest wall perforator flaps.
Association of Breast Surgery
British Association of Surgical Oncology
Royal Society of Medicine
General Medical Council
British Medical Association
Cox K, Dineen N, Taylor-Phillips S, Sharma N, Harper-Wynne C, Allen D et al. Enhanced axillary assessment using injected microbubbles and contrast-enhanced ultrasound (CEUS) before neoadjuvant systemic therapy (NACT) identifies axillary disease missed by conventional B-mode ultrasound that may be clinically relevant. Breast Cancer Res Treat 2020: https://doi.org/10.1007/s10549-020-05956-0
Zhu J, Rowland EM, Harput S, Riemer K, Leow CH, Clark B, Cox K et al. 3D Super-Resolution US imaging of Rabbit Lymph Node Vasculature in Vivo by Using Microbubbles. Radiology 2019. https://doi.org/10.1148/radiol.2019182593.
Lowes S, Leaver A, Cox K, Satchithananda K, Cosgrove D, Lim A. Evolving imaging techniques for staging axillary lymph nodes in breast cancer. Clinical Radiology 2018; https://doi.org/10.1016/j.crad.2018.01.003
Cox K, Taylor-Phillips S, Sharma N, Weeks J, Mills P, Sever A et al. Enhanced pre-operative axillary staging using intradermal microbubbles and contrast-enhanced ultrasound to detect and biopsy sentinel lymph nodes in breast cancer: a potential replacement for axillary surgery. Br J Radiol 2017; 90: 20170626.
Cox K, Weeks J, Mills P, Chalmers R, Devalia H, Fish D, Sever A. Contrast-Enhanced Ultrasound Biopsy of Sentinel Lymph Nodes in Patients with Breast Cancer: Implications for Axillary Metastases and Conservation. Ann Surg Oncol 2016; 23: 58-6