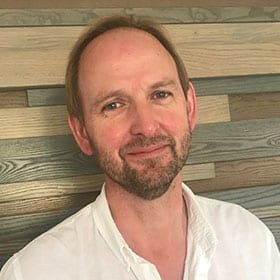 MB BChir FRCS, Consultant Breast and Endocrine Surgeon
Mr Pain qualified as a doctor at the University of Cambridge in 1991 and completed his training in London and at Addenbrooke's Hospital, prior to taking up a consultant post at the Norfolk and Norwich University Hospital in 2003. He lead a busy department as clinician and surgeon, as well as having a teaching role at the University of East Anglia.
He has performed a range of roles as Chair of Cancer Networks in the Eastern Region and has sat as a Specialist Member on a number of NICE Diagnostic Assessment Committees. Mr Pain has experience in the clinical management and treatment of a wide range of breast-related presentations, including breast pain and benign lumps as well as breast cancer.
Endocrine surgery is another area of interest and specialism, and Mr Pain offers the full range of management to surgical problems affecting the thyroid and parathyroid glands, including minimally invasive parathyroid surgery.
Mr Pain believes strongly in the multi-disciplinary management of breast disease and that all cases are discussed with a full, specialist team of doctors and specialist nurses.
Mr Pain is also a strong advocate of, and is extensively experienced in, the optimal use of evidence-based, new techniques so as to provide both the best clinical care and the best possible experience for his patients. 
Importantly, he is an empathic person and prioritises and values taking time to listen and talk through process and treatment options with his patients.
Current position(s)
Consultant Breast and Endocrine Surgeon
Teaching role at the University of East Anglia
Past position(s)
Consultant post at the Norfolk and Norwich University Hospital in 2003
Universities
University of Cambridge
Training in London and at Addenbrooke's Hospital
Expertise
Breast disease
Endocrine surgery
Interests
Breast – benign and malignant.
Thyroid – surgical management.
Parathyroid – surgical management (inc minimally invasive surgery)
Walpole Lewin Prize for Surgery, University of Cambridge, 1991
Lymphoedema following surgery for breast cancer.
Pain SJ, Purushotham AD.
British Journal of Surgery 2000; 87: 1128-41
Variation in treatment and survival in breast cancer
Purushotham AD, Pain SJ, Miles D, Harnett A
Lancet Oncology 2001; 2: 719-25
Opportunities and challenges of next-generation DNA sequencing for breast units
Pilgrim SM, Pain SJ, Toschkowitz MD
Br J Surg. 2014: 40(6): 889-98
Short-term effects of axillary lymph node clearance surgery on lymphatic physiology of the arm in breast cancer.
Pain SJ, Purushotham AD, Peters AM
Journal of Applied Physiology 2005; 99: 2345-51
Treatment of recurrent breast cancer following breast-conserving surgery
Burger AE, Pain SJ, Peley G
Breast J. 2013; 19(3): 310-18