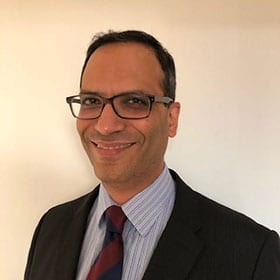 FRCSEd, Phd, FEBS, Consultant Oncoplastic Breast Surgeon
I did my primary under-graduation degree from Bombay, India and then pursued my Post-graduation for the MS (Master of Surgery) degree at Tata Memorial Cancer Centre India where I trained in all aspects of Oncosurgery.
I currently am appointed as substantive Consultant Breast Surgeon at Frimley NHS Foundation Trust. I came to the UK in 2000 and have trained in all aspects of my sub-specialist interest of Breast Surgery at well-known tertiary NHS Trusts including Oncoplastic fellowships at Charing Cross Hospital- Imperial College, Guy's and St Thomas NHS and St George's NHS Trust.
My research interests are around imaging response to cancer therapies and I have undertaken formal research towards this and was awarded a PhD from Imperial College London in 2011. I have published extensively as well as have numerous regional, national and international publications in various aspects of breast cancer and also from my formal research work.
I follow a multidisciplinary approach to treat breast conditions including cancer to ensure the best clinical outcome for my patients. I have more than 20 years of experience in performing breast surgery including being up to date with all the latest techniques including nipple-saving mastectomy with immediate breast reconstruction using the pre-pectoral approach
Substantive Consultant Breast Surgeon at Frimley NHS Foundation Trust
Undergraduate degree from Bombay, India
Postgraduate (Master of Surgery) degree at Tata Memorial Cancer Centre India, trained in all aspects of Oncosurgery
Charing Cross Hospital- Imperial College
Guy's and St Thomas NHS and St George's NHS Trust
Breast cancer
Breast surgery
Nipple-saving mastectomy with immediate breast reconstruction using the pre-pectoral approach
Imaging response to cancer therapies
Nipple sparing mastectomy
Sentinel node biopsy
Axillary clearance
Therapeutic mammoplasty
Oncoplastic breast surgery
Reconstruction using implant & autologous flaps
Partial breast reconstruction
Symmetrisation breast surgery after cancer
Family history risk assessment for breast cancer
Association of Breast Surgery UK
Imperial College Alumni Association
British Medical Association
Fellow of the Royal College of Surgeons of Edinburgh
Frank Doyle ('Gold') medal for Fellowship of the Royal College of Radiologists (FRCR) exam
British Heart Foundation Centre for Research Excellence DPhil Fellowship
CCLG Scholarship to attend ESO-SIOPE Masterclass
Royal College of Radiologists Cyclotron Trust visiting fellowship
Cancer Research UK Programme Grant 'Benefits and Risks of Cancer Treatment'
Paper– [18F]-3'Deoxy-3′-fluorothymidine positron emission tomography and breast cancer response to docetaxel
Contractor KB, Kenny LM, Stebbing J, Rosso L, Ahmad R et al
Clinical Cancer Research. 2011 Dec 15;17(24):7664-72
Paper– [11C]choline Positron Emission Tomography (PET) in Estrogen Receptor Positive Breast Cancer
K Contractor, L Kenny, J Stebbing, C Palmieri, A Al-Nahhas et al.
Clinical Cancer Research, September 1, 2009; 15(17): 5503 – 5510
Paper– Intra-operative imprint cytology for assessing the sentinel node in breast cancer – Results of its routine use over 8 years.
Contractor, M. Gohel, E. Al-Salami, K. Kaur, N. Aqel, E. Nigar, M. Burke, H. Singhal.
European Journal of Surgical Oncology, Jan 2010, Volume 35, Issue 1, Pages 16-20
Paper– Biological basis of [11C]choline-positron emission tomography in patients with breast cancer: comparison with [18F]fluorothymidine positron emission tomography.
Contractor KB, Kenny LM, Stebbing J, Challapalli A, Al-Nahhas A et al
Nuclear  Medicine Communications. 2011,  Aug 22
Reviewer- Annals of Surgery , European Journal of Surgical Oncology