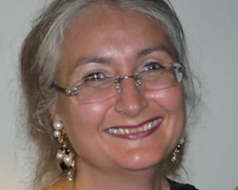 MB BS, FRCS Consultant Breast Surgeon
Miss Predolac is a highly experienced breast surgeon who regularly runs one stop breast clinics at the BMI Princess Margaret Hospital, with further appointments outside of regular clinics as required.
She is highly experienced in all aspect of benign breast disease and management of breast cancer including both immediate and delayed reconstructive surgery when indicated, as well as family history and risk reducing surgery.
She has an excellent reputation in her care and surgical expertise, employing oncoplastic surgical techniques with the aim of producing minimal scaring and good cosmetic outcomes.
Miss Predolac qualified from the Medical College of St. Bartholomew's Hospital (Barts), London University in 1988. Specialist surgical training was in the North West Thames region at Charing Cross Hospital , Chelsea & Westminster Hospital & the Royal Marsden Hospital; with a period of formal research at Imperial college, Hammersmith campus and attachment to the West of London Breast Screening Service. She was appointed a substantive consultant breast and reconstructive surgeon at Heatherwood & Wexham Park NHSFT, introducing and establishing oncoplastic breast surgery and immediate reconstruction at the trust. In 2015 she moved exclusively into the independent sector.
Miss Predolac is supported by an excellent team of radiologists, pathologists,oncologists and Breast Care Nurse Specialists. The management of all patients diagnosed with breast cancer is discussed at a multidisciplinary team meeting.
Current position(s)
Breast Surgeon at BMI Princess Margaret Hospital
Interest
Diagnosis and management of benign breast disease and cancer of the breast
Male breast cancer
Breast (oncoplastic) and reconstructive surgery including
symmetrising surgery, augmentation and reduction mammoplasty
Diagnostic one stop clinics
Family history of breast disease and risk reducing surgery
Breast pain
Nipple discharge
Royal College of Surgeons of England
Royal Society of Medicine
Association of Breast Surgeons
British Association of Surgical Oncologists
General Medical Council
Medical Protection Society
British Medical Association
Women in Surgery
Miss Dominika Predolac reviews