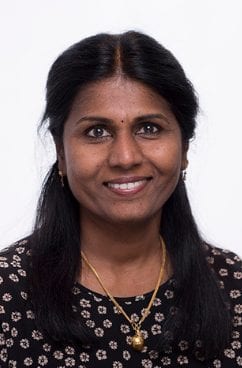 Expert in
CNS tumours and Thyroid cancer
Special clinical interest in respiratory motion management and advanced technical radiotherapy.
Dr Ezhil led the implementation of the stereotactic ablative body radiotherapy (SABR) lung service at the Royal Surrey County Hospital (RSCH) in January 2012 and has treated over 150 patients to date.

She is currently the SABR lead for the treatment of oligometastases at RSCH and delivers SABR across all cancer sites and will consider patients with three or fewer metastases in lung, liver, spine, bone, adrenal or lymph node from any solid tumour.
Dr Ezhil started her post as a substantive consultant in clinical oncology in November 2009, specialising in the management of lung cancer and lymphoma.
She completed a research fellowship in advanced technical radiotherapy at the University of Texas MD Anderson Cancer Centre, Houston, Texas, studying the various methods of managing respiratory motion including 4DCT, respiratory gating and other techniques of IGRT. She also gained clinical experience in SABR and had the benefit of learning the indications and benefits of proton beam therapy.
Dr Ezhil has attended the Stereotactic Body Radiation Therapy Training Programme held at UT Southwestern Medical Centre, Dallas, Texas under the leadership of Timmerman in December 2011 and the SBRT Symposium 2014 held in Amsterdam organised by the Dutch Society of Radiation Oncology in December 2014 to further improve her SABR skills.
She attends American Society for Radiation Oncology (ASTRO) and other national and international conferences on SABR regularly to maintain collaboration with experts in the field of stereotactic radiotherapy and to keep up-to-date with the latest developments and issues in SABR treatments.
She has published original articles in oncology journals and presented at national and international meetings.
NHS Hospital / current post(s)
Consultant Clinical Oncologist, Royal Surrey County Hospital NHS Foundation Trust
Consultant Clinical Oncologist
UT Southwestern Medical Centre
CNS tumours
Thyroid cancer
Respiratory motion management and advanced technical radiotherapy
Fellow of the Royal College of Radiologists (FRCR)
Member of the Royal College of Physicians (MRCP)
 The SBRT Symposium 2014 held in Amsterdam organised by the Dutch Society of Radiation Oncology in December 2014 to further improve her SABR skills
Attend American Society for Radiation Oncology (ASTRO) and other national and international conferences on SABR