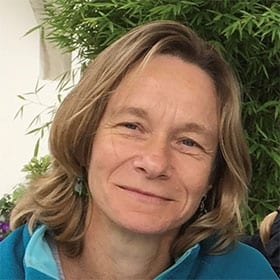 MA BMBCh MRCP FRCR PGCE (Med Ed)
Expert in
Prostate cancer and bladder cancer
Special clinical interest in prostate cancer & bladder cancer
Dr Brock is an experienced uro-oncology consultant, specialising in systemic treatments (hormonal therapy, chemotherapy and immunotherapy) for prostate and bladder cancer, and in radiotherapy – both external beam and brachytherapy.
Her other main medical interest is medical education and she has had a variety of roles both locally and nationally related to postgraduate medical training.
NHS Hospital
Research Interests
Contributing to key national trials as a Principle Investigator for instance STAMPEDE, ATLANTIS, POUT
Personal Interests
Cycling, fitness, spending time with family.
Prostate cancer
Bladder cancer
Contributing to key national trials as a Principle Investigator for instance STAMPEDE, ATLANTIS, POUT