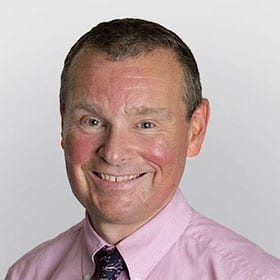 MB, ChB, MRCP, FRCR, MD, Consultant Clinical Oncologist
Expert in
Chemotherapy and radiotherapy
Special clinical interest in lung; oesophageal; stomach and colorectal cancer.
Dr Falks major clinical interests are thoracic (lung) and gastro-intestinal malignancies (oesophagus, stomach, pancreas, colo-rectal).
He provides specialist chemotherapy and radiotherapy treatments, often in combination. A major interest in clinical research was stimulated as a MRC Clinical Scientist in Cambridge where the MRC cancer trials unit was situated at the time. He has an MD related to lung cancer and scheduling of topoisomerase poisons, with and without radiation, which is the basis of on-going interest in chemo-radiotherapy and new drugs.
All patients who are referred will be offered an appropriate clinical trial.
Consultant Clinical Oncologist, Honorary Senior Lecturer Bristol Haematology and Oncology centre
Treatment of Oeosophago-gastric, hepatobiliary, pancreatic and Colorectal Cancer