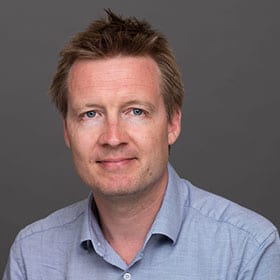 BM BS MRCP DPhil, Medical Oncology
Expert in
Medical Oncology
Dr Simon Lord is a Consultant Medical Oncologist at the Oxford Cancer Centre and Clinical Academic at the University of Oxford specialising in the treatment of breast cancer and in particular advanced breast cancer. His main research interest is in the development of new drugs to treat breast cancer and he is a senior member of the Early Phase Clinical Trials Unit at the University of Oxford.
He undertook his oncology training as a Walport Academic Fellow in Leeds and Oxford and in 2010 was awarded a CRUK Clinical Research Fellowship at the Weatherall Institute of Molecular Medicine in Oxford. Here he earned a DPhil for his work investigating therapeutic approaches to target breast cancer metabolism.
He is principal and chief investigator on a number of clinical trials of novel therapies and cancer imaging techniques. He is a module lead for the Precision Cancer Medicine MSc at the University of Oxford and a research fellow at Oriel College. He sits on the Breast Cancer Now Grants Advisory Committee, National Cancer Research Institute Clinical Trials Pathology Advisory Group Committee and is a board member of the National Cancer Imaging Translational Accelerator (NCITA) Clinical Trials Unit.
Dr Simon Lord has a clincal interest in breast cancer and clinical trials of novel agents for the treatment of breast cancer
2006 Walport Academic Clinical Fellowship, St James Hospital, Leeds
2010 CRUK Clinical DPhil Studentship, University of Oxford
2014 Association of Cancer Physicians McElwain Prize
2014 NCRI prize award
2018 Oriel College Against Breast Cancer Research Fellow
2019 Fellowship of Royal College of Physicians
Transcriptomic analysis of human primary breast cancer identifies fatty acid oxidation as a target for metformin. Br J Cancer. 2020 Jan;122(2):258-265
Window of opportunity clinical trial designs to study cancer metabolism. Br J Cancer. 2020 Jan;122(1):45-51
Dual Erb B Inhibition in Oesophago-gastric Cancer (DEBIOC): A phase I dose escalating safety study and randomised dose expansion of AZD8931 in combination with oxaliplatin and capecitabine chemotherapy in patients with oesophagogastric adenocarcinoma. Eur J Cancer. 2020 Jan;122(1):45-51
Trastuzumab duocarmazine in locally advanced and metastatic solid tumours and HER2-expressing breast cancer: a phase 1 dose-escalation and dose-expansion study. Lancet Oncol. 2019 Aug;20(8):1124-1135
Hypoxia-induced switch in SNAT2/SLC38A2 regulation generates endocrine resistance in breast cancer. PNAS. 2019 Jun;116(25):12452-12461
Integrated pharmacodynamic analysis identifies two metabolic adaption pathways to metformin in breast cancer. Cell Metabolism. 2018 Nov;28(5):679-688