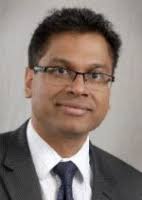 Dr Ramkumar Shanmugasundaram
MD, DHA, DIH, FRCPI, FRCP, FRCR, FAcadMEd, Clinical oncologist
Expert in
Radiation Oncology 
Special clinical interest in Head and neck cancer, Skull base tumours and rectal cancer.
Dr Ramkumar Shanmugasundaram trained in India as a Radiation Oncologist from 1994 – 1997. He then trained as Specialist Registrar in Wessex Clinical Oncology Rotation 2004-2009 and obtained Certificate of Completion of Training in 2009 and Fellowship in IMRT & IGRT at Royal Marsden Hospital in 2009.
Consultant Clinical Oncologist, University Hospital Southampton NHS Foundation Trust.
IMRT, IGRT, Proton therapy in head and neck cancers, Stereotactic radiotherapy in skull-based tumours and Intraoperative Radiotherapy & Proton therapy in colorectal cancers.
Technical developments in Radiotherapy- IMRT, IORT, SRS, PBT
Improving functional outcomes in head & neck cancers
Immunotherapy, Low Level Laser Therapy
Royal College of Radiologists.
Royal College of Physicians.
Medical Protection Society.

British Medical Association.

British Association of Head and Neck Oncologists.
European Society for Therapeutic Radiology and Oncology.

Particle Therapy Co-operative Group (PTCOG)


International Society of Intraoperative Radiation Therapy (ISIORT)
Fellowship in IGRT (image guided radiotherapy) & IMRT (intensity modulated radiotherapy) – Royal Marsden Hospital, UK, 2009
Stereotactic Radiotherapy training for skull base and central nervous system tumours under Professor Michael Brada – 2009
RCR – Cyclotron Trust Travelling Proton Fellowship – University of Florida Proton Therapy Institute, 2013
RCR – Kay Travelling Fellowship in Intraoperative Radiotherapy – MD Anderson Cancer Centre, Texas, USA, 2015
Observership in Intraoperative Radiotherapy – Massachusetts General Hospital, Boston, USA, 2016
Davies Foundation Proton Therapy Travelling Fellowship – Paul Scherrer Institut, Switzerland and Scripps Proton Therapy Centre, USA, 2017