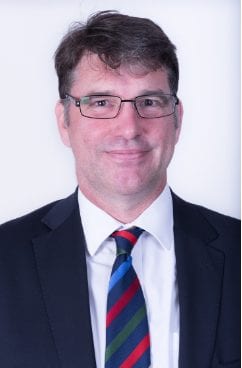 Expert in
Head & neck cancer, Prostate cancer, Skin cancer
Special clinical interests in prostate, head and neck, thyroid, bladder and skin cancers.
Dr Benson trained at St Bartholomew's Hospital, London and qualified in 1988. Following his general medical training, he undertook his formal oncology training at Addenbrooke's Hospital, Cambridge and was a visiting Senior Fellow at Princess Margaret Hospital in Toronto, Canada from 1998-1999.
Dr Benson was appointed a Consultant Clinical Oncologist at Addenbrooke's NHS Foundation Trust and Peterborough Hospital NHS Trust in 2000.
He is actively involved in clinical research with special interest in technical aspects of radiotherapy. His research interests are based around improving radiotherapy and chemoradiotherapy in head & neck and urological cancers by developing technical radiotherapy and evaluating treatment related toxicity.
He is involved in teaching and examining oncology trainees for the Royal College of Radiologists.
Consultant Clinical Oncologist and Cambridge University Hospital
Consultant Clinical Oncologist at Addenbrooke's NHS Foundation Trust

Consultant Clinical Oncologist 
Teacher and examiner for Royal College of Radiologists
St Bartholomew's Hospital, London. Qualified in 1988
Formal oncology training at Addenbrooke's Hospital, Cambridge

Senior Fellow at Princess Margaret Hospital in Toronto, Canada from 1998-1999
Improving radiotherapy and chemoradiotherapy in head & neck and urological cancers by developing technical radiotherapy and evaluating treatment related toxicity
Member of the Royal College of Physicians (MRCP)
Fellow of the Royal College of Radiologists (FRCR)
Member of the European Society of Radiation Oncology (ESRO)