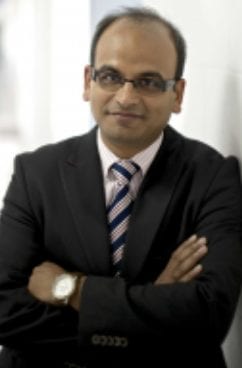 MBBS, MRCP, FRCR, MSc (Oncology), Clinical oncologist
Expert in
Breast cancer, haematological and skin cancers including metastatic melanoma and immunotherapy.
Dr Mukesh graduated in 2003 with distinction and undertook specialist training in oncology at Addenbrooke's Hospital, Cambridge. He was awarded the Fellowship of the Royal College of Radiologists in 2010. Following this he worked as a senior research fellow at Cambridge Breast Unit. His research work was based around the use of advanced radiotherapy techniques including Intensity Modulated Radiotherapy (IMRT) and Image Guided Radiotherapy (IGRT) in breast cancer treatment.
After successfully completing his research fellowship, he was appointed Consultant in Clinical Oncology at Colchester University Hospital NHS Trust in 2013. He is now the Lead Oncologist for breast cancer and chemotherapy services in Colchester. Dr Mukesh has vast experience in the use of systemic chemotherapy, biological agents, hormone therapy and new radiotherapy techniques, especially in relation to breast cancer. His other clinical interests include the use of immunotherapy for treatment of malignant melanoma. His patients can receive chemotherapy and immunotherapy treatment at home. Dr Mukesh also practices at the Nuffield Ipswich, Ramsay Oaks and the Springfield Cancer Centre, Springfield Hospital.
Consultant in Clinical Oncology, Colchester University Hospitals NHS Foundation Trust
Fellow of the Royal College of Radiologists (FRCR)
Member of the Royal College of Physicians (MRCP)
Member of the European Society for Radiotherapy and Oncology (ESTRO)
Member of the Medical Defence Union (MDU)