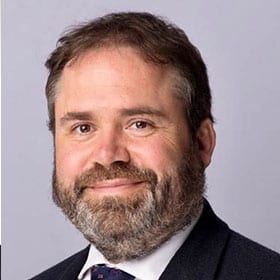 MBBCh, BSc, MRCP, MSc, FRCR, MD(Res), Clinical Oncologist
Dr John Conibear graduated from the University Hospital of Wales in 2001 and completed his post-graduate general medical training in The Barts and The London Training rotation in 2006. Before gaining his substantive post as a consultant clinical oncologist in St. Bartholomew's Hospital in 2014, he completed a 2-year fellowship with the NCRI Radiotherapy Trials Quality Assurance Group in Mount Vernon Hospital. During his fellowship he conducted research into techniques to improve clinician target outlining during radiotherapy planning and was subsequently awarded a MD(Res) from UCL in 2018.
He is currently deputy medical director and deputy director of Barts Cancer Centre. Dr Conibear specialises in all the non-surgical treatments for both lung and breast cancers. He has expertise in chemotherapy, biological therapy, immunotherapy, radiotherapy and state of the art radiotherapy techniques including deep inspiration breath hold (DIBH) for early breast cancer, Intensity Modulated Radiotherapy (IMRT), Image Guided Radiotherapy (IGRT), 4D-CT and both Cyberknife and Gamma Knife (stereotactic radiotherapy). He is also currently the lead for chemotherapy and clinical director for thoracic oncology in St. Bartholomew's Hospital.
Accuray Cyberknife Training Course Accuray 2015
Advanced Communication Skills Course School of Clinical Oncology 2014
Radiotherapy Trials Quality Assurance Clinical Fellowship Mount Vernon Hospital 2011
Royal College of Physicians.
Royal College of Radiologists.
The European Society for Radiotherapy & Oncology (ESTRO).
Member of the UK Radiotherapy Trials Quality Assurance (RTTQA) Group.
Deputy Medical Director of Barts Cancer Centre, November 2018 to present.
Barts Charity Ambassador, 2018.
Barts Systemic Therapies and Service Delivery Lead, January 2017 to present.
Bart's Clinical Director for lung cancer and brain tumour services, December 2015 to present.
Chair of Radiotherapy Projects and Quality Improvements Committee; St. Bartholomew's Hospital 2014.
ESTRO 2015 Poster 'Volumetric Versus Anatomical Outlining: Target Delineation Conformity in a Multi-Centre Head and Neck Trial.'
BTOG 2015 Poster 'Retrospective Review of Survival Outcomes for Non-Small Cell Lung Cancer (NSCLC) Patients Treated with Radical Radiotherapy Since 2000 in St. Bartholomew's Hospital, London.'
BUG 2014 Poster 'A Novel Method of Optimising the CTV to PTV Margin in Prostate Radiotherapy Using Fiducials and Strict Organ Filling.'
ASTRO 2013 Poster 'Multi-centre clinical assessment of atlas-based contouring.'
ASTRO 2013 Poster 'Multi-center assessment of auto-contouring using Deformable Image Registration for adaptive therapy.'