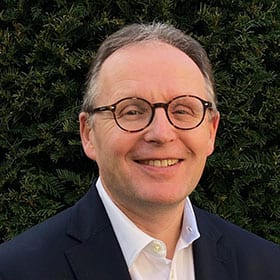 BSc, BM, PhD, FRCP, Consultant Medical Oncologist
Expert in
Breast cancer, testicular and Germ Cell cancer, chemotherapy, clinical trials and oncology
Dr Braybrooke is a Consultant Medical Oncologist based at University Hospitals Bristol NHS Foundation Trust. He trained in Medical Oncology at the Cancer Research UK Medical Oncology unit in Oxford. During this time Dr Braybrooke completed a PhD and developed an interest in drug development and clinical trials. He has worked in Bristol since 2003 and developed a large research based clinical practice specialising in breast, testicular and Germ Cell cancers. He is the Clinical Director at Bristol Haematology and Oncology Centre. He is enthusiastic about improving patients' experience of chemotherapy and other anti-cancer treatments and has helped lead the development of home and community chemotherapy services in Bristol.
Current position(s)
University Hospitals Bristol NHS Foundation Trust
Dr Braybrooke is an Honorary Senior Lecturer at the University of Bristol and actively involved in clinical research. He works part time as a Senior Clinical Research Fellow at the University of Oxford within the Early Breast Cancer Trialists Collaborative Group. This research seeks to bring together individual patient level data from all available randomised trials in early breast cancer. The published meta-analyses have had a significant impact on the management of patients with early stage breast cancer. He has co-authored over 40 peer-reviewed publications. Dr Braybrooke is a clinical advisor to NICE and sits on their technology appraisal committee reviewing the clinical and cost effectiveness of new treatments being considered for the NHS.
Fellow of the Royal College of Physicians  

 

Member of the American Society of Clinical Oncology 
Member of the Association of Cancer Physicians
Early Breast Cancer Trialists' Collaborative Group. Increasing the dose intensity of chemotherapy by more frequent administration or sequential scheduling: a patient-level meta-analysis of 37 298 women with early breast cancer in 26 randomised trials. Lancet 2019; 393: 1440-52
Early Breast Cancer Trialists' Collaborative Group. Long term outcomes for neo-adjuvant versus adjuvant chemotherapy in early breast cancer. Meta-analysis of individual patient data from ten randomised trials. Lancet Oncology 2018; 19: 27-39
Pan H, Gray R, Braybrooke J et al. 20-year risks of breast cancer recurrence after stopping endocrine therapy at 5 years. N Engl J Med 2017; 377: 1836-46
Kuchel A, Robinson T, Comins C et al. The impact of the 21-gene assay on adjuvant treatment decisions in oestrogen receptor positive early breast cancer – a prospective study. J. Cancer 2016; 29: 731-6