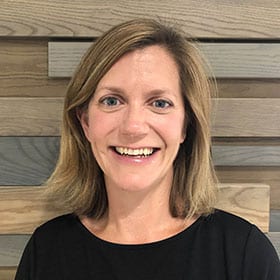 BMedSci, MBBS, MRCP, FRCR, Consultant Clinical Oncologist
Expert in
Prostate and skin cancers
After qualifying as a doctor at St. Bartholomew's & The Royal London Medical School, Dr Nobes completed her clinical oncology training rotation at a variety of London teaching hospitals and cancer centres. Towards the end of her training, she undertook a fellowship at the Royal Surrey County Hospital, Guildford, where she became skilled and published in prostate brachytherapy techniques. During this time, she also set up and completed a clinical trial evaluating the treatment of metabolic syndrome in prostate cancer patients on hormone therapy.
Dr Nobes consultant post in Norwich commenced in 2010, and she has been able to develop the skin cancer and prostate brachytherapy services since then. After leading a successful fundraising campaign (Targeted Radiotherapy Appeal), Dr Nobes began treating prostate patients with HDR brachytherapy in 2018, which was subsequently recognised in the national Macmillan awards for quality improvement. Most recently, she commenced rectal spacer insertions under local anaesthesia in patients prior to undergoing prostate radiation treatment.
Dr Nobes skin practice encompasses the management of melanoma and non-melanoma skin cancers, and she has chaired the regional specialist skin cancer multidisciplinary team since 2015. Over the past 10 years Dr Nobes has recruited patients into clinical trials of new therapies and has seen the eventual introduction of effective immunotherapies and targeted therapies into routine clinical practice. The annual Norwich skin cancer radiotherapy course is recognised nationally as an essential component of preparation for the FRCR, and Dr Nobes has organised this since 2016.
Dr Nobes enjoys being research active and has been principal and chief investigator of several skin and prostate cancer trials. She was appointed subspecialty lead for skin cancer by the Eastern Clinical Research Network in 2014 and won their clinical excellence award in 2019. Dr Nobes is also currently clinical lead for oncology trials at NNUH.
Prostate cancer
HDR brachytherapy
Rectal spacers
Radiotherapy and systemic drug treatments (curative and palliative)
General health impact of hormone therapy
Skin cancer
Melanoma immunotherapy and targeted therapy in the adjuvant and palliative settings
Palliative systemic therapy for non-melanoma skin cancers
Radiotherapy for benign and malignant skin lesions
Fellow of the Royal College of Radiologists
British Uro-Oncology Group member
Melanoma Focus member
Eastern CRN sub speciality lead for skin cancer
Eastern Clinical Research Network award for excellence in cancer research 2019
Macmillan Quality Improvement award for prostate brachytherapy service 2019
NNUH Level 2 Local Clinical Excellence Award 2016
Radiotherapy and Systemic Treatment for Non-melanoma Skin Cancer in the COVID-19 Pandemic. Rembielak A, Sykes AJ, Fife K, Challapalli A, Nobes JP.Rembielak A, et al. Clin Oncol (R Coll Radiol). 2020 Jul;32(7):417-419. doi: 10.1016/j.clon.2020.04.014.
Pembrolizumab in Combination with Radiotherapy for Metastatic Melanoma - Introducing the PERM Trial. Yip K, Melcher A, Harrington K, Illidge T, Nobes J, Webster A, Smith D, Lorigan P, Nathan P, Larkin J.Yip K, et al. Clin Oncol (R Coll Radiol). 2018 Apr;30(4):201-203. doi: 10.1016/j.clon.2018.01.001.
Adjuvant bevacizumab for melanoma patients at high risk of recurrence: survival analysis of the AVAST-M trial. Corrie PG, Marshall A, Nathan PD, Lorigan P, Gore M, Tahir S, Faust G, Kelly CG, Marples M, Danson SJ, Marshall E, Houston SJ, Board RE, Waterston AM, Nobes JP, Harries M, Kumar S, Goodman A, Dalgleish A, Martin-Clavijo A, Westwell S, Casasola R, Chao D, Maraveyas A, Patel PM, Ottensmeier CH, Farrugia D, Humphreys A, Eccles B, Young G, Barker EO, Harman C, Weiss M, Myers KA, Chhabra A, Rodwell SH, Dunn JA, Middleton MR; AVAST-M Investigators, Nathan P, Lorigan P, Dziewulski P, Holikova S, Panwar U, Tahir S, Faust G, Thomas A, Corrie P, Sirohi B, Kelly C, Middleton M, Marples M, Danson S, Lester J, Marshall E, Ajaz M, Houston S, Board R, Eaton D, Waterston A, Nobes J, Loo S, Gray G, Stubbings H, Gore M, Harries M, Kumar S, Goodman A, Dalgleish A, Martin-Clavijo A, Marsden J, Westwell S, Casasola R, Chao D, Maraveyas A, Marshall E, Patel P, Ottensmeier C, Farrugia D, Humphreys A, Eccles B, Dega R, Herbert C, Price C, Brunt M, Scott-Brown M, Hamilton J, Hayward RL, Smyth J, Woodings P, Nayak N, Burrows L, Wolstenholme V, Wagstaff J, Nicolson M, Wilson A, Barlow C, Scrase C, Podd T, Gonzalez M, Stewart J, Highley M, Wolstenholme V, Grumett S, Goodman A, Talbot T, Nathan K, Coltart R, Gee B, Gore M, Farrugia D, Martin-Clavijo A, Marsden J, Price C, Farrugia D, Nathan K, Coltart R, Nathan K, Coltart R.Corrie PG, et al. Ann Oncol. 2018 Aug 1;29(8):1843-1852. doi: 10.1093/annonc/mdy229.