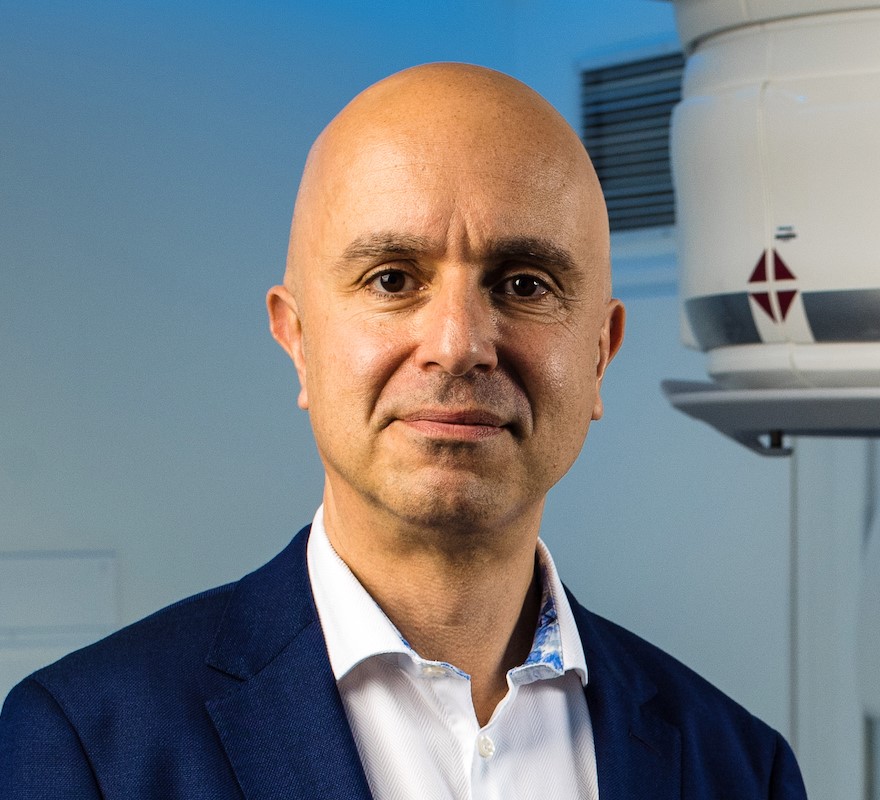 MB BS, MCRP, FRCR, Clinical Oncologist
Expert in
Oncological management of lung cancers, mesothelioma, and urological (prostate, kidney, bladder) cancers. 
I qualified from United Medical and Dental Schools of Guy's & St Thomas's in 1993, completing general medical training in London and the South East of England. I was appointed as a Consultant Oncologist in 2003, having completed oncology training in Wales.
My special interests are the oncological management of lung cancers, mesothelioma, and urological (prostate, kidney, bladder) cancers.
I have clinical experience in using a wide range of radiotherapy treatments, including MR Linac radiotherapy, brachytherapy, stereotactic radiotherapy, and proton beam therapy, as well as more conventional conformal radiotherapy (IMRT, VMAT).
My systemic therapy experience includes the use of chemotherapy, hormone therapy, immunotherapy, radioisotopes, and targeted treatments.
There are a bewildering variety of treatments for cancer and deciding on the right therapy approach for an individual is vital. I use cancer genomic analysis where appropriate to tailor a bespoke treatment plan for people under my care.
I aim to provide advice and treatment that is comprehensive, understandable, and based on the latest research.
I have clinics in South Wales as well as Bristol and Oxford and am happy to offer remote consultations.
Thoracic cancers (lung, mesothelioma)
Urological cancers (prostate, bladder, kidney)
Mesothelioma research Network member
UK Lung Cancer Consortium committee member
NCRI Advanced Diseases Subgroup
Fellow of the Royal College of Radiologists
Royal College of Physicians
Cancer Research UK: £56,000 for the I-START trial – a dose escalation study in locally advanced NSCLC
June Hancock Mesothelioma Fund: £100,000 for the SKOPOS trial – A vaccine trial in mesothelioma
Nivolumab versus placebo in patients with relapsed malignant mesothelioma (CONFIRM): a multicentre, double-blind, randomised, phase 3 trial. CONFIRM trial investigators. Lancet Oncol. 2021 Nov; 22(11): 1530–1540
Active symptom control with or without oral vinorelbine in patients with relapsed malignant pleural mesothelioma (VIM): A randomised, phase 2 trial. EClinicalMedicine. 2022 May 19;48:101432
Phylogenetic ctDNA analysis depicts early-stage lung cancer evolution. Nature. 2017 Apr 26;545(7655):446-451.
Radiotherapy to the primary tumour for newly diagnosed, metastatic prostate cancer (STAMPEDE): a randomised controlled phase 3 trial. Lancet. 2018 Dec 1;392(10162):2353-2366.
Abiraterone for Prostate Cancer Not Previously Treated with Hormone Therapy. N Engl J Med. 2017 Jul 27;377(4):338-351.