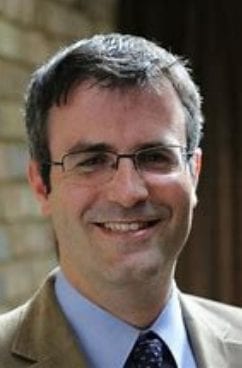 MBBS, MA, MRCP, FRCPath, DPhil, Haematology Consultant
Special clinical interests in Lymphoma, lymphoproliferative disorders
Dr Collins is currently the Lymphoma Lead for Oxford University Hospitals and he is active nationally in clinical trials and guidelines development. His interests are in lymphoproliferative disorders and together with Dr Chris Hatton, he is joint Programme Director for the national specialist trainee lymphoma management course.
Dr Collins was a member of the lymphoma guidelines development group of NICE and has co-authored the national guidelines for relapsed Hodgkin's lymphoma.
Current position(s)
Oxford University Hospital
Expertise
Chemotherapy
Drug therapy
Stem cell transplantation
Interests
Development and running of clinical trials in lymphoid disorders
Clinical trials of novel treatments in Diffuse large B-cell lymphoma, Hodgkin Lymphoma and T-cell lymphoma. 
Also active in trials in low grade lymphomas.
 Member of the Royal College of Physicians (MRCP)
 Fellow of the Royal College of Pathologists (FRCPath)
 Member of the British Society of Haematology
 Member of the American Society of Hematology
Past member of the lymphoma guidelines development group of the National Institute for Health and Care Excellence (NICE)
Chair of the UK Hodgkin Lymphoma Study group and T-cell lymphoma working group
Clinical Expert on the National CAR T-cell therapy panel
Beacon of Hope Award 2013 (Lymphoma Action)