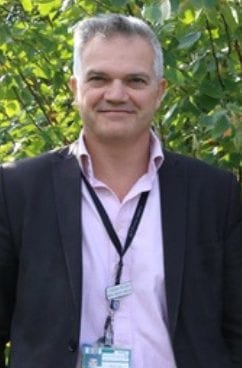 MBBS, FRCP, PhD, Medical oncologist
Expert in
Prostate cancer
Dr Protheroe is a Medical Oncologist within the University of Oxford Department of Oncology at the Oxford Cancer and Haematology Centre. He has specialised in urological oncology since 2001.
He trained at St Thomas's Hospital in London and, after general medical training in London, trained in oncology at St James's University Hospital in Leeds.
His PhD was in immunology (immune reconstitution following high dose chemotherapy) and the research was at Leeds and at the National Cancer Institute in Amsterdam.
He has been Clinical Director of Oncology and Chair of the Oxford Cancer Directorate Therapeutics Committee and member of the Oxfordshire Cancer Treatment Panel. He has also been the lead clinician for testicular cancer with the Thames Valley Network.
Current position(s)
Consultant Medical Oncologist, Oxford University Hospitals NHS Trust
Universities
St Thomas's Hospital in London
Trained in oncology at St James's University Hospital in Leeds

Specialties
Urology
Prostate
Testicular
Kidney
Bladder
Interests
Chemotherapy and biological therapy for inpatients and outpatients
Clinical trials
Fellow of the Royal College of Physicians (FRCP)
Member of the American Society of Clinical Oncology (ASCO)
Member of the British Medical Association (BMA)
Member of the Association of Clinical Pathologists (ACP)
Member of British Association for Cancer Research (BACR)
Member of the British Society for Immunology (BSI)
Member of the Medical Protection Society (MPS)