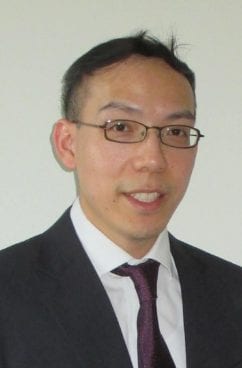 MBChB (Hons), BMedSci (Hons), MRCP, FRCR, Clinical Oncologist
Expert in
Urological cancers, prostate, Kidney, Bladder, IMRT, IGRT, VMAT, SBRT, Chemotherapy, Hormonal and biological therapy.
Dr Chan graduated with Honours from the University of Birmingham Medical School. He also completed a BMedSci in Physiology, medical membership examinations of the Royal College of Physicians and further specialised in oncology with the completion of fellowship examinations of the Royal College of Radiologists.
Following specialist training in oncology, he completed a fellowship at the Princess Margaret Hospital, Toronto Canada, becoming highly competent in advanced radiotherapy techniques such as Intensity Modulated Radiotherapy (IMRT), Image Guided Radiotherapy (IGRT), Stereotactic Body Radiotherapy (SBRT) and Volumetric Modulated Arc Therapy (VMAT). Since 2011, he has expanded the IMRT service at his NHS Post with the implementation of IGRT, Adaptive Radiotherapy, VMAT and SBRT.
Medicince (Honours), University of Birmingham Medical School
BMedSci in Physiology, University of Birmingham 
Dr Chan has authored a number of peer-reviewed articles as well as written a book chapter in oncology. He is also the principal investigator for several phase 3 clinical trials and is an active trial recruiter to advanced radiotherapy trials.
Royal College of Physicians London
Royal College of Radiologists London
British Uro-Oncology Group