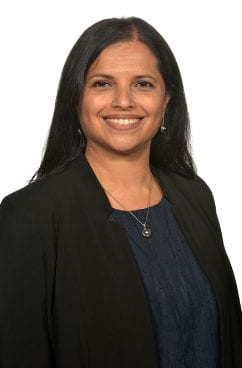 MB, ChB, FRCR, Clinical oncologist
Expert in
Genitourinary cancer, Gynaecological cancer
Dr Anand is a Consultant Clinical Oncologist with a specialist interest in the treatment of gynaecological and breast cancers.
Dr Anand is currently working as a Consultant Clinical Oncologist at Nottingham University Hospitals NHS trust. She has been in this post since 2010. Prior to her appointment as a consultant she trained as specialist registrar at Nottingham University Hospitals, Derby Royal Infirmary and University Hospitals of Leicester. Her special interests are gynaecological cancers and breast cancers.
She is the Lead Clinician instrumental in the development of HDR intracavitary brachytherapy for cervical and uterine cancers. In addition, she also treats ovarian cancer and has a special interest in the use of PARP inhibitors. She also treats patients with breast cancer using appropriate modalities of treatment- chemotherapy, adjuvant and palliative radiotherapy and endocrine treatment.
Current position(s)
Consultant Clinical Oncologist at Nottingham University Hospitals NHS trust
Expertise
Breast cancer and gynaecological cancer

Genitourinary cancer
Interests
Radiotherapy
Chemotherapy
Hormonal therapy and biological therapy
Cervix cancer
Concurrent chemo-radiotherapy
HDR brachytherapy
Uterine cancers
Intensity modulated radiotherapy
Ovarian cancers
Adjuvant and palliative chemotherapy
VEGF inhibitors
PARP inhibitors
Adjuvant breast radiotherapy, palliative chemotherapy for breast cancers
Palliative radiotherapy for pain control
Endocrine treatment for breast cancers
Monoclonal antibody treatment
Ovarian cancer
Breast radiotherapy
Fellow of the Royal College of Radiologists
European Society of Gynaecological Oncology
European Society of Radiology and Oncology