Introduction
Endometrial cancer treatment at GenesisCare
We specialise in the latest techniques for treating all types of cancer, including endometrial (womb or uterus) cancer. We have teams of gynaecological oncologists and other specialists who are experts in this type of cancer. They work together to evaluate the most up-to-date treatments and procedures so we can offer you the best options without delay.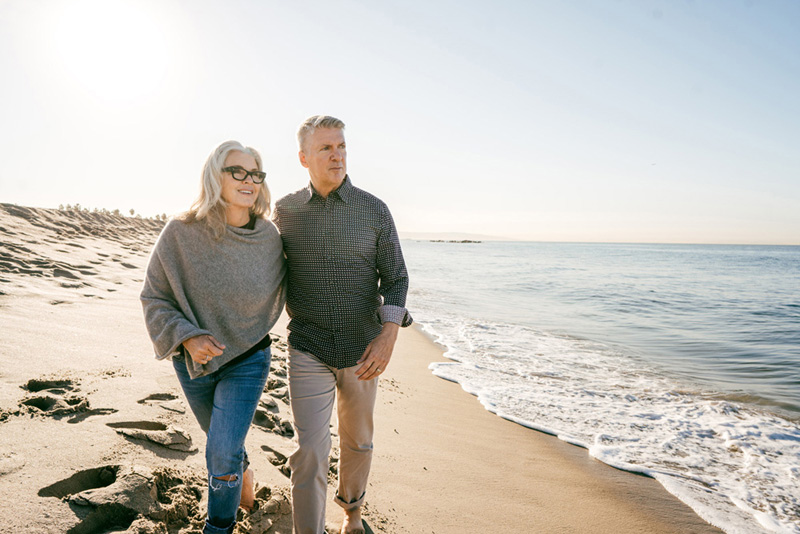 Treatment overview
Cancer of the womb may be called different names by health professionals, including cancer of the uterus, uterine cancer or endometrial cancer, which is a cancer within the lining of the womb.
Each year around 9,400 people in the UK are diagnosed with womb cancer. It's rare in women under 40 and becomes more common after the age of 55.
Treatment typically depends on the type of womb cancer you have, the size of it, whether it's spread to other parts of your body, and your general health. Diagnosing womb cancer early often allows for more treatment options and better outcomes.
As the UK's leading specialist independent cancer care provider, we offer you first-class treatments that will be managed by a team of specialists in womb cancer. You can be reassured that they'll work closely with you to identify the best personalised care plan for your diagnosis.
The main treatment for womb cancer is surgery. But you may also have radiotherapy, chemotherapy or hormone therapy.
To help ensure the best outcomes are achieved for you, we combine your treatment with personalised integrative cancer care which is proven to improve outcomes. This includes a programme of exercise medicine and access to a wellbeing expert and holistic therapies such as counselling, acupuncture, massage and reflexology through our unique partnership with the Penny Brohn UK charity.
It is our commitment to offer world-class cancer care to all of our patients, to achieve the best outcomes possible.
How is womb cancer treated?
There are a number of treatment options available for womb cancer they include:
Surgery – this generally involves the removal of the womb and cervix, and usually both ovaries and fallopian tubes. Sometimes it is necessary to also remove the pelvic lymph nodes. This surgery is normally performed with keyhole surgery (laparoscopic surgery), but may be offered with robotic assisted or traditional open hysterectomy.
Radiotherapy – high-energy radiation beams are precisely delivered to destroy cancer cells while doing as little harm as possible to healthy cells.
Chemotherapy – anti-cancer (cytotoxic) drugs are used to destroy cancer cells.
Hormone therapy – the female sex hormones oestrogen and progesterone may be used to affect the growth of cells in the womb lining.
If you have any questions you'd like to ask in confidence, please don't hesitate to get in touch with us. We're here to help.
Diagnostics
We understand that this may be a very worrying time for you. But please remember that symptoms you may be experiencing can often be caused by other conditions, not only womb cancer, but it's important to book an appointment with your GP if you're concerned about endometrial cancer symptoms.
How is womb cancer diagnosed?

You may undergo one or more of the following diagnostic tests if you're showing signs of womb cancer.
Internal vaginal examination
A doctor will examine you to check for any lumps, swelling or abnormalities in your pelvic area.
Blood test
You might have blood tests to check your general health or help diagnose what is causing any symptoms you have.
 Transvaginal ultrasound scan
A small probe emits sound waves inside the vagina to look at nearby areas such as the womb, womb lining, ovaries and fallopian tubes.
CT, MRI and PET-CT scans
Your doctor may arrange for you to have a CT scan, MRI scan or PET-CT to produce more detailed images of the inside of your body. This helps your doctor know where in the womb the cancer is and check if it's present in other parts of the body so they'll be able to recommend the best ways to treat it.
Biopsy
A doctor may remove a small sample of the tissue lining your womb, which is then examined under a microscope for signs of cancer.
Hysteroscopy
A very thin telescope with a light on the end is passed through the vagina and cervix into your womb. This allows a doctor to view images of inside your womb on a screen.
Chest X-ray
You may have a chest X-ray to check your lungs and heart before surgery, or to find out if there is any cancer in your lungs.
Usually, the first sign of womb cancer is unusual vaginal bleeding. This could be:
bleeding after the menopause (the most common symptom)
bleeding in between periods
heavier periods than usual
a bloody or pink and watery vaginal discharge.
Less common symptoms include pain or discomfort in the pelvic area, pain during sex, and blood in your urine with either a:
low red blood cell level (anaemia)
high platelet count (thrombocytosis)
high blood sugar level.
Please remember having one or more of the above signs and symptoms doesn't mean you have womb cancer. These symptoms may be caused by other conditions. But if you are concerned about womb cancer, you should speak to your GP to arrange an appointment.
Surgery
Surgery is the main treatment for womb cancer. Our cancer specialists have close relationships with top surgeons from local and nationally renowned hospitals. They'll work with them and other gynaecological experts to decide the best course of treatment for you.
If your consultant recommends surgery, this can be arranged conveniently at one of our partner hospitals. You can then continue your other treatments at GenesisCare.
The size and stage of your tumour will determine the most appropriate operation for you. Generally, surgery for womb cancer involves the removal of the womb and cervix, and usually both ovaries and fallopian tubes as well.
Radiotherapy
Radiotherapy uses targeted, high-energy radiation beams to destroy cancer cells.
You might have radiotherapy after surgery for womb cancer to reduce the risk of your cancer coming back. You may also have radiotherapy to help control the symptoms of advanced womb cancer or if your cancer has returned. Radiotherapy is sometimes given as the main treatment for womb cancer if surgery is not appropriate.
The type of radiotherapy your specialist recommends for you might be external radiotherapy, internal radiotherapy (brachytherapy), or both.
At GenesisCare, we're the leading independent provider of radiotherapy in the UK and offer world-class expertise, state-of-the-art facilities and advanced radiotherapy techniques. Our latest-generation radiotherapy machines deliver highly targeted radiation beams with sub-millimetre accuracy, which makes them extremely effective and minimises the radiation dose to healthy tissues.
Our expert multidisciplinary teams (MDTs), consisting of oncologists, radiotherapists, and medical physicists, will oversee your radiotherapy treatment. By working closely together, they will put together a personalised treatment plan for you that ensures you always get the best possible care.
External radiotherapy for womb cancer
Volumetric modulated arc therapy (VMAT) is a modern radiotherapy technique that directs beams of radiation in an arc across the treatment area. Together with surface-guided radiotherapy (SGRT), it's possible to precisely target areas of cancer, adjusting the beam and intensity of the radiation dose, to allow for movements in the body and avoid healthy tissues.
Side effects of radiotherapy can occur when healthy tissues receive radiation, so using this technique helps to limit the dose to tissues and organs surrounding the tumour. At GenesisCare, we offer VMAT wherever possible, because it is widely recognised to be the highest standard of care currently available for patients needing this type of radiotherapy.
We also offer palliative VMAT radiotherapy for those living with advanced womb cancer (stage 4). This type of treatment can help to shrink the cancer and control symptoms. We understand that fast access to palliative care is paramount, so we always do our best to provide treatment within 48 hours of a planning imaging scan.
Stereotactic ablative radiotherapy (SABR) uses very focused high-energy radiation beams to treat tumours in five or fewer sessions, and is often used in place of surgery. If you've previously had radiotherapy to the pelvis, your consultant may suggest this as an option. This is because stereotactic treatment is so precise it can often mean re-treatment is possible.
Internal radiotherapy for womb cancer
Internal radiotherapy (brachytherapy) involves hollow tube applicators being inserted into the vagina which give radiotherapy directly to the top of the vagina. It's usually given as an inpatient procedure at a hospital.
Our consultant oncologists work closely with cancer specialists from locally and nationally renowned hospitals. So if your consultant recommends that you need internal radiotherapy, they'll arrange this at one of our partner hospitals and ensure you receive the best possible treatment and care. You can then continue any further treatments at GenesisCare.
Side effects of radiotherapy
No treatment is without side effects. Your doctor will explain these to you before you start your course of radiotherapy. They will also discuss how your treatment plan and supportive care can help to manage or minimise these side effects.
You can read more detail about our radiotherapy treatments below. If you'd like to find out more about your treatment options, contact us today for advice or to book an appointment.
Drug treatments
At GenesisCare, we offer many of the newest drug therapies that can be used to treat and manage womb cancer. Depending on how these treatments are provided, you may need to attend one of our private chemotherapy suites, which are staffed by our specialist nurses.
Our compassionate nursing teams are available 24/7 on a dedicated on-call telephone service, and they can answer any queries during your treatment. They can also provide advice about side effects and symptoms and help to arrange appropriate medical care when needed.
There are different types of drug treatments, also called systemic anti-cancer therapies. Our expert teams continually review and assess new treatments to make these available to our patients as early as possible.
All GenesisCare centres have received the Macmillan Quality Environment Mark, which is awarded to cancer environments that go above and beyond to create welcoming and friendly spaces for people living with cancer.
Chemotherapy for womb cancer
Chemotherapy uses cytotoxic (anti-cancer) drugs to destroy cancer cells.
Your specialist may recommend you have chemotherapy after surgery or radiotherapy to reduce the risk of your cancer coming back.
Hormones are naturally made in the body and help control the growth and activity of cells. The female sex hormones oestrogen and progesterone can affect how cells grow in the womb lining.
Your specialist may suggest hormone therapy if you have advanced womb cancer, your womb cancer has come back after treatment, or you cannot have surgery or radiotherapy because of health issues.
The aim of hormonal therapy for womb cancer is to shrink the cancer and control symptoms.
Targeted therapy for womb cancer
Targeted, also called biological therapies are a specialised group of drugs that are designed to attack or block specific processes in cancer cells that tumours depend on to survive and grow.
Immunotherapy for womb cancer
Immunotherapies work by helping your body's own immune system to recognise and fight the cancer.
Palliative care for womb cancer
If your cancer has spread to other parts of the body, it may be called advanced, metastatic or stage 4 womb cancer. At GenesisCare, you can receive palliative drug treatment for advanced womb cancer to reduce the size and progress of your cancer and ease pain and other symptoms.
Personalised medicine for womb cancer
For some advanced cancers, we use specialist tests, such as liquid biopsy or genomic testing, to understand the genetic make-up of cancer cells. This helps us to identify which drugs are available to work against specific genetic mutations in a cancer, allowing us to start effective treatment without delay.
There may also be opportunities to access clinical trials for the newest treatments for womb cancer.
Side effects of drug treatment
No treatment is without side effects. Your doctor will explain these to you before you start your course of chemotherapy. They will also discuss how your treatment plan and supportive care can help to manage or minimise these side effects.
Integrative care
At GenesisCare, we do more than just treat your cancer. Our integrative approach to cancer care means we develop personalised treatment plans for every one of our patients that offers them access to therapies that are proven to improve outcomes for people diagnosed with cancer. These therapies can play a significant role in helping you manage and cope with your cancer and any side effects caused by your treatment.
Research has shown that a personalised programme of carefully planned and supported physical activity can enhance the quality of life of cancer patients, limit the impact of cancer by improving strength and reducing fatigue, and ultimately lead to better outcomes.
One of our expert physiotherapists specialising in exercise for people living with cancer will provide you with a tailored 12-week programme supported by our dedicated GenesisCare Exercise Medicine app. The physiotherapist will also work closely with you to monitor changes in your health and support you throughout the programme, helping you achieve the best results. This service is available at selected GenesisCare centres.
Through a unique partnership with the charity Penny Brohn UK, we offer all womb cancer patients access to a wellbeing expert and holistic therapies either in-person or remotely. The therapies you could benefit from include counselling, acupuncture, massage and reflexology.
Why choose us?
GenesisCare is the UK's leading independent provider of cancer care, offering the latest innovations and techniques that are proven to be safe and effective. If you choose us for your womb cancer treatment, you'll be under the care of a team of experts, including gynaecological oncologists, surgeons and other cancer experts.
Your care team will design a personalised care plan based around your diagnosis and preferences, with treatment starting within days, if needed. We also support every patient through their cancer journey with therapies such as exercise medicine and psychological support.
Our dedicated cancer centres are convenient and easy-to-access. You can use your private medical insurance, and we're recognised by all leading insurers.
Throughout the COVID-19, our priority is to continue to provide the very best cancer care. We have meticulous measures in place to ensure our patients receive the treatments they need safely and without delay. You can find out more about our COVID-19 safety measures here.
We're proud that so many of our patients rate the care they receive from us as "excellent". Find out more about the high-quality experiences of people who have been diagnosed or treated at a GenesisCare centre in our patient stories section.
Contact us today to book an appointment or speak to a member of our experienced and compassionate team about private cancer care and how we can help you.