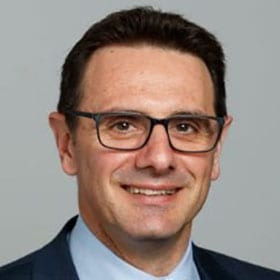 MBBS, FRANZCR, Radiation Oncologist
Clinical interests in urological, breast, lung, and gastrointestinal (GI) malignancies.
Dr Mario Guerrieri has been part of Radiation Oncology Victoria (ROV) since 2004 and GenesisCare since it amalgamated (with ROV) in 2011. He previously worked as a staff specialist at the Peter MacCallum Cancer Centre and The Alfred.
Mario has developed clinical interests mainly in the area of pelvic malignancies (prostate cancer and rectal cancer), breast cancer, and thoracic malignancies. He works closely with surgeons and oncologists in these cancer streams to help deliver personalised, evidence-based care in these common but complex malignancies. He is closely aligned with and attends the multidisciplinary meetings at Cabrini, Western Health, and the Australian Prostate Centre.
In 2008, he was involved in setting up brachytherapy services in the Western Suburbs of Melbourne. During his career, Mario has collaborated closely with local urologists to help deliver improved quality of life outcomes for prostate cancer patients including the utilisation of modern radiation therapy techniques.
Further, Mario has also worked closely with his breast surgical colleagues, with the aim of helping to optimise outcomes for specific types of breast cancer.
Mario is committed to helping patients he treats across a range of tumour types, and strives to deliver best possible patient outcomes.