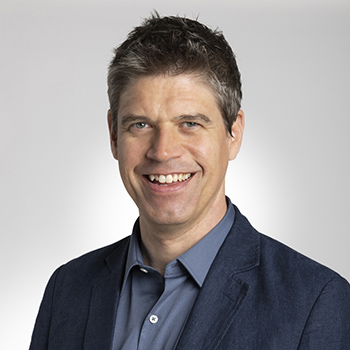 MBChB, MRCP(UK), FRANZCR, Radiation Oncologist
Clinical interests in gastrointestinal, genitourinary, lung, head and neck, and skin cancers.
Dr Chris Rumley is a consultant Radiation Oncologist with GenesisCare Berwick and Frankston, Victoria. Chris graduated from the University of Glasgow in 1999 and became a member of the Royal College of Physicians and Surgeons of Glasgow in 2005. He completed specialist training in radiation oncology in New Zealand and became a Fellow of the Royal Australian and New Zealand College of Radiologists in 2016.
Chris completed a two-year fellowship at Liverpool Hospital in NSW, where he led a prospective study of imaging biomarkers in head and neck cancer. He then worked in Darwin as the main radiation oncologist for the Northern Territory before moving to Townsville in North Queensland where he was a key member of the team delivering Australia's first MR-guided radiation therapy treatments.
Chris has a keen interest in research and has been a co-investigator in multiple clinical trials in genitourinary and gastrointestinal cancers and is a member of the Trans-Tasman Radiation Oncology Group (TROG). He is passionate about offering the highest quality cancer care to patients possible to patients.
Zukauskaite R, Rumley CN, Hansen CR, et al. Delineation uncertainties of tumour volumes on MRI of head and neck cancer patients. Clinical and Translational Radiation Oncology. 2022 Sep;36:121-126. DOI: 10.1016/j.ctro.2022.08.005. PMID: 36017132; PMCID: PMC9395751.
Paterson C, Hargreaves S, Rumley CN. Functional Imaging to Predict Treatment Response in Head and Neck Cancer: How Close are We to Biologically Adaptive Radiotherapy? Clinical Oncology (Royal College of Radiologists (Great Britain)). 2020 Dec;32(12):861-873. DOI: 10.1016/j.clon.2020.10.004. PMID: 33127234.
Cardoso M, Min M, Jameson M, et al. Evaluating diffusion-weighted magnetic resonance imaging for target volume delineation in head and neck radiotherapy. Journal of Medical Imaging and Radiation Oncology. 2019 Jun;63(3):399-407. DOI: 10.1111/1754-9485.12866. PMID: 30816646.
Rumley CN, Lee MT, Holloway L, et al. Multiparametric magnetic resonance imaging in mucosal primary head and neck cancer: a prospective imaging biomarker study. BMC Cancer. 2017 Jul;17(1):475. DOI: 10.1186/s12885-017-3448-5. PMID: 28693449; PMCID: PMC5502487.
Rumley CN, Nedev N, Sharples K, Lee J, Lamb DS. Intensity-modulated radiotherapy in the treatment of locoregionally advanced head and neck cancer: implementation and outcomes in a New Zealand community hospital. Journal of Medical Radiation Sciences. 2016 Jun;63(2):96-103. DOI: 10.1002/jmrs.177. PMID: 27350889; PMCID: PMC4914810.