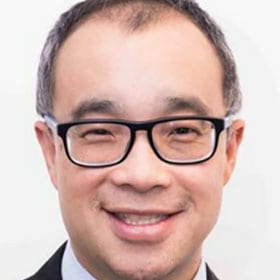 MBBS (Hons), FRANZCR, Radiation Oncologist
Languages spoken
English, Cantonese
Special clinical interests in prostate, breast, lung, gastrointestinal, lymphoma, CNS, stereotactic radiation therapy and prostate brachytherapy.
Michael is an honours graduate of Monash University Medical School. He trained as a radiation oncology registrar at the Peter MacCallum Cancer Centre and spent his fellowship year overseas at the Royal Marsden Hospital, United Kingdom. He returned to Australia and worked as a staff specialist at the Peter MacCallum Cancer Centre in head and neck and gastrointestinal cancers. He has been working with GenesisCare since 2009 as a general oncologist, with focus on breast, prostate, gastrointestinal and  lung cancer.
Varian prize 2005: For his research project in conformal radiation therapy in head and neck cancer and sparing of salivary glands in 2005 in his time as a registrar.
American Society of Clinical Oncologists Annual Meeting Merit Award 2007 for research in PSA kinetics in patients under active surveillance prostate cancer.
Ng M, Ho H, Skelton J, Guerrieri M, Guiney M, Chao M, et al. Intensity-modulated Radiotherapy for Anal Cancer: Dose-Volume Relationship of Acute Gastrointestinal Toxicity and Disease Outcomes. Clin Oncol (R Coll Radiol). 2018;30(10):634-41.
Ng M, Brown E, Williams A, Chao M, Lawrentschuk N, Chee R. Fiducial markers and spacers in prostate radiotherapy: current applications. BJU Int. 2014;113 Suppl 2:13-20.
Ng M, Leong T, Heriot AG, Ngan SY. Once-daily reirradiation for rectal cancer in patients who have received previous pelvic radiotherapy. J Med Imaging Radiat Oncol. 2013;57(4):512-8.
Ng M, Leong T, Chander S, Chu J, Kneebone A, Carroll S, et al. Australasian Gastrointestinal Trials Group (AGITG) contouring atlas and planning guidelines for intensity-modulated radiotherapy in anal cancer. Int J Radiat Oncol Biol Phys. 2012;83(5):1455-62.
Ng M, Van As N, Thomas K, Woode-Amissah R, Horwich A, Huddart R, et al. Prostate-specific antigen (PSA) kinetics in untreated, localized prostate cancer: PSA velocity vs PSA doubling time. BJU Int. 2009;103(7):872-6.