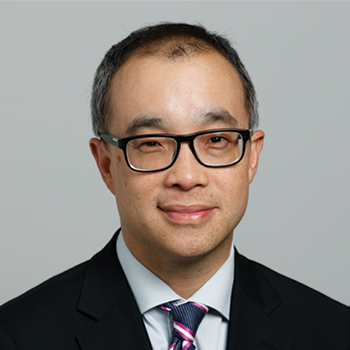 MBBS (Hons), FRANZCR, Radiation Oncologist
Languages spoken
English, Cantonese
Clinical interests in prostate, breast, lung, and gastrointestinal cancers, lymphoma and stereotactic radiation therapy.
Michael is an honours graduate of Monash University Medical School. He trained as a radiation oncology registrar at the Peter MacCallum Cancer Centre and spent his fellowship year overseas at the Royal Marsden Hospital, United Kingdom. He returned to Australia and worked as a staff specialist at the Peter MacCallum Cancer Centre in head and neck and gastrointestinal cancers.
He has been working with GenesisCare since 2009 as a general oncologist, with clinical interests in breast, prostate, gastrointestinal and lung cancer.
Michael is the head of the stereotactic radiation therapy service at GenesisCare in Victoria. He has previously been radiotherapy chair of EviQ cancer guidelines (Cancer Institute NSW), and since 2017 is an advisor to the federal government Department of Health on the Medical Services Advisory Committee (MSAC) which appraises new medical services proposed for public funding.
Michael's research interests include prostate cancer management.
Medical Services Advisory Committee (MSAC)
Evaluation Sub-committee (ESC)
Department of Health, Australia Government
Harris N, Tan MY, Ng M, Blakey D, Guerrieri M, Joon DL, Lau E, Foroudi F, Armstrong A, Chao M. PSMA-PET Detection of Unusual Metastases in Castrate-Sensitive Prostate Carcinoma. Clin Nucl Med. 2022 Oct 31. doi: 10.1097/RLU.0000000000004469. Epub ahead of print. PMID: 36288618.
Williams J, Millan KM, Bolton D, Tan A, Cham CW, Pham T, Pan D, Liu M, Chan Y, Manohar P, Thomas J, Koufogiannis G, Ho H, Guerrieri M, Ng M, Boike T, Macleod C, Joon DL, Foroudi F, Chao M. Hyaluronic acid rectal spacer in EBRT: Usability, safety and symmetry related to user experience. J Med Imaging Radiat Sci. 2022 Oct 3:S1939-8654(22)00361-7. doi: 10.1016/j.jmir.2022.09.008. Epub ahead of print. PMID: 36202722.
Chao M, Bolton D, Lim Joon D, Chan Y, Lawrentschuk N, Ho H, Spencer S, Wasiak J, Guerrieri M, Ow D, Troy A, Pham T, Sengupta S, Tan A, McMillan K, Koufogiannis G, Foroudi F, Ng M, Khoo V. High dose rate brachytherapy boost for prostate cancer: Biochemical control and the impact of transurethral resection of the prostate and hydrogel spacer insertion on toxicity outcomes. J Med Imaging Radiat Oncol. 2019 Jun;63(3):415-421. doi: 10.1111/1754-9485.12882. Epub 2019 Mar 25. PMID: 30908894.
Perry E, Talwar A, Taubman K, Ng M, Wong LM, Sutherland TR. Pathological predictors of 18 F-DCFPyL prostate-specific membrane antigen-positive recurrence after radical prostatectomy. BJU Int. 2022 Jun;130 Suppl 1:28-36. doi: 10.1111/bju.15724. PMID: 35768883.
Flanagan JPM, Ng M, Kibrom AZ, Filshie RJA, Stawell RJ, O'Day RF. Ultra-low dose external beam radiotherapy for presumed choroidal lymphoma: a case report. J Ophthalmic Inflamm Infect. 2022 Mar 5;12(1):10. doi: 10.1186/s12348-022-00288-0. PMID: 35247125; PMCID: PMC8898208.