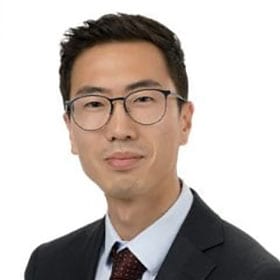 MBBS, FRANZCR, Radiation Oncologist
I am a strong advocate for radiation oncology and am passionate about improving awareness and accessibility to radiotherapy treatment
Languages spoken

English, Korean
Clinical interests in central nervous system (CNS), lung, breast, gastrointestinal (GI), urological, haematological, paediatric, adolescents, and young adults, head and neck, and skin cancers.
Dr Laurence Kim studied at the University of Adelaide and graduated with Bachelor of Medicine and Bachelor of Surgery in 2010.  He undertook his training in Radiation Oncology at the Royal Adelaide Hospital and received his FRANZCR in 2018.
Following training, Dr Kim was the Bragg Fellow at the Royal Adelaide Hospital for six months, before working as a Clinical and Research Fellow at the Princess Margaret Cancer Centre and Sick Kids Hospital in Toronto, Canada from 2018-2019.  He had the great opportunity to work under supervisors who are world leaders in their corresponding fields.  During this time, Dr Kim was actively involved in numerous protocol developments and research projects.
Dr Kim returned to Adelaide in 2019 to continue his career as a Consultant Radiation Oncologist, joining the team at Genesis Care.
Recognition for Dr Kim has included the Professor Derek Frewin AO Citation for Clinical Training Award.
He is a strong advocate for Radiation Oncology and is passionate about improving awareness and accessibility to radiation therapy treatment within the cancer community.
"Intellectual changes after radiation for children with brain tumors: Which brain structures are most important?" Published in Neuro-Oncology.
"Application of Stereotactic Body Radiotherapy (SBRT) in Advanced Pancreatic Cancers in Australia" Published in Journal of Medical Radiation Sciences.
"Phase II study of celecoxib with docetaxel chemoradiotherapy followed by consolidation chemotherapy docetaxel plus cisplatin with maintenance celecoxib in inoperable stage III non-small cell lung cancer." Published in Asia Pacific Journal of Clinical Oncology.
"Quality indicators for prostate radiotherapy: Are patients disadvantaged by receiving treatment in a 'generalist' centre?" Published in Journal of Medical Imaging and Radiation Oncology.
"Are staging investigations being overused in patients with low and intermediate risk prostate cancers." Published in Journal of Medical Imaging and Radiation Oncology.