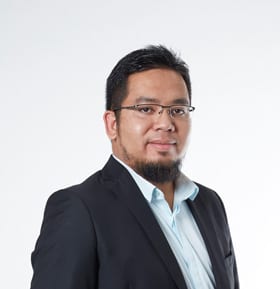 MBChB, FRANZCR, Radiation Oncologist
Through evidence-based medicine, I endeavour to provide outstanding care & treatment to my patients, viewing each & every one as an individual.
Languages spoken
English, Malay
Special clinical interests in non melanomatous skin cancer, stereotactic radiosurgery (SRS) and stereotactic ablative body radiotherapy (SABR).
Even in high school, Kasri knew that he wanted to be an oncologist. His motivation saw him leave his large family in rural Malaysia to study medicine in New Zealand.
After obtaining his medical degree from the University of Otago (NZ) in 2009, Kasri entered the radiation oncology specialist training program which eventually took him to the Royal Adelaide and Lyell McEwin hospitals in South Australia and the Alan Walker Cancer Care Centre Darwin. Following this, Kasri completed a clinical research fellowship to further expand his knowledge of advanced techniques. After working as a specialist radiation oncologist and university lecturer in Queensland, he joined GenesisCare in Western Australia and is the director of the South West Radiation Oncology Service.
A keen researcher, Kasri has several poster and oral presentations both in Australia and overseas to his credit, and is keen to pursue further research activities.
Did you know?
Kasri is quite the cook – Malaysian and South East Asian cuisine are his specialty.  He also likes to dabble in DIY and has green fingers, just like his father.
Kasri's key clinical interests include general radiation oncology, and the use of advanced techniques such as stereotactic body radiation therapy, stereotactic radiosurgery, intraoperative radiotherapy (IORT) and MR-guided Adaptive Radiotherapy (MGgART).
Royal Australian New Zealand College of Radiologists (RANZCR)
European Society for Radiotherapy and Oncology (ESTRO)
European Society of Medical Oncology (ESMO)
American Society of Clinical Oncology (ASCO)
Trans-Tasman Radiation Oncology Group (TROG)
Radiosurgery Society (RSS)
Australian and New Zealand Urogenital and Prostate Cancer Trials Group (ANZUP)
Cooperative Trials Group of Neuro- Oncology (COGNO)