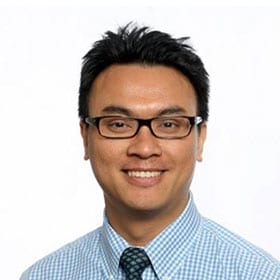 MBBS (SYD), FRACP, FAANMS, DDU, Nuclear Medicine Physician
Expert in
Prostate cancer
Dr Jeremy Hoang is a dual trained nuclear medicine physician and endocrinologist with appointments at Royal North Shore Hospital, Hornsby Hospital and Sydney Adventist Hospital.
Jeremy graduated from the University of Sydney in 1998. He undertook residency at St George Hospital and then training in nuclear medicine, ultrasound and endocrinology at Westmead Hospital, Prince of Wales Hospital and Canberra Hospital.
Jeremy's interest is in the application of nuclear medicine imaging and therapy in treating endocrine disease. He has published, presented and chaired at national and international levels in thyroid disorders.
He has been an examiner for the RACP clinical examination and is a current tutor for the University of Sydney Medical School.