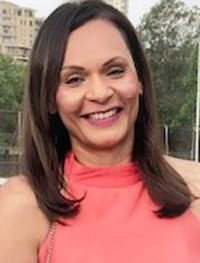 BMed FRANZCR, Radiation Oncologist
Expert in
Blood cancer, Breast cancer
Delivering excellence in treatment for people with breast cancer, sarcoma and lymphoma.
Gillian is an expert in radiation oncology specialising in breast cancers, sarcoma, and lymphoma.
Gillian is a dynamic and thoughtful clinician who's passionate about patient-centred care. She collaborates with her patients to build individualised treatment plans that integrate the latest evidence with innovative radiation techniques.
Gillian is a dedicated teacher and lecturer of medical students at the Northern Clinical School, and she is a conjoint senior lecturer with the University of Sydney.
As a patient in Gillian's care, you can be sure you're receiving the best evidence-based care from a leading oncologist, working as part of a dedicated multidisciplinary team.
Gillian is actively involved in clinical trials to improve patient care. She's the principal investigator on several breast cancer trials at the Northern Sydney Cancer Centre. She also regularly contributes to quality assurance and audit programs for patient treatment.
Gillian advocates for better patient care through her work with several important strategic groups. She's the inaugural Chair of the Breast Interest Group Faculty of Radiation Oncology (BIG-FRO) Australia and New Zealand. BIG-FRO aims to promote best practice for breast cancer management, and to enhance the profile of radiation oncology for treating breast cancer. She's also a member of the Australasian Society of Breast Disease, the ANZ Breast Cancer Trials Group, and the Strategic Advisory Group for Breast Cancer Network Australia (BCNA).