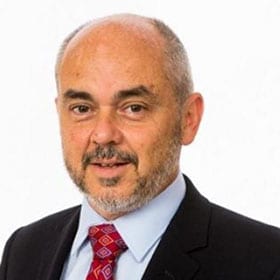 MBBS, BSC(MED), DDU, FRACP, FAANMS, Nuclear Medicine Physician
Clinical interests in lung cancer and prostate cancer.
Dr Geoffrey Schembri graduated from the University of Sydney in 1982. He trained at Westmead Hospital for both his physicians' exam and subsequently in Nuclear Medicine and Ultrasound. Following this, he spent a year at the Mayo Clinic.
He has had a long interest in education and has, over the years, been clinical superintendent at Westmead Hospital, councillor on the post graduate medical council, examiner and board member for the Diploma of Diagnostic Ultrasound and is currently a senior lecturer at the University of Sydney.
He is also heavily involved in research with over 38 publications, over 70 conference papers and author on two book chapters. Geoff helped establish the first private PET facility in Australia, and has experience in nuclear medicine, ultrasound, and cardiac CT.
Geoff will take on the position of President of the Australasian Association of Nuclear Medicine Physicians in April, 2020 and currently consults at the North Shore Theranostics Service in Sydney.
Lung cancer treatment techniques
Brain tumour treatment techniques
Molecular therapy
Royal Australian College of Physicians
Australian and New Zealand Society of Nuclear Medicine
Australasian Association of Nuclear Medicine Specialists
Australian Society of Ultrasound in Medicine
Society of Nuclear Medicine (USA)
Jaymanne DT, Kaushal S, Chan D, et al. Utilizing 18F‐fluoroethyl‐l‐tyrosine positron emission tomography in high grade glioma for radiation treatment planning in patients with contraindications to MRI. Journal of medical imaging and radiation oncology. 2018;62:122-127.
Hruby G, Eade T, Emmett L, et al. 68Ga‐PSMA‐PET/CT staging prior to definitive radiation treatment for prostate cancer. Asia‐Pacific Journal of Clinical Oncology. 2018.
Hayes AR, Jayamanne D, Hsiao E, et al. Utilizing 18F-fluoroethyltyrosine (FET) positron emission tomography (PET) to define suspected non-enhancing tumor for radiotherapy planning of glioblastoma. Practical Radiation Oncology. 2018.
Byrne K, Eade T, Kneebone A, et al. Delineating sites of failure following post-prostatectomy radiation treatment using 68Ga-PSMA-PET. Radiotherapy and Oncology. 2018;126:244-248.