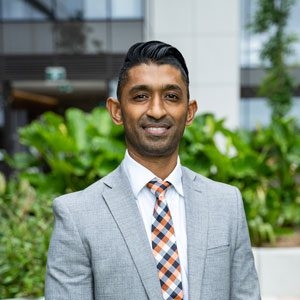 BSc (Med Sci), MBBS, Dip Pall Care, PhD candidate, FRANZCR, Radiation Oncologist
Delivering excellence in treatment for people with malignancies in the lung, central nervous system and head and neck.
Dasantha is a thorough and experienced radiation oncologist specialising in malignant tumours of the lung, central nervous system and head and neck.
Dasantha's care is patient-centred and collaborative. He has a keen interest in symptom control and is passionate about evidence-based care and the delivery of quality radiation therapy through highly accurate and innovative radiotherapy techniques.
Dasantha has strong experience in clinical research, with a special interest in lung cancer tracking and Stereotactic Ablative Body Radiotherapy (SBRT). His research PhD focuses on primary lung tumours treated with SBRT and holds a Diploma in Palliative Care. He's an investigator on several international and national clinical trials in his specialty areas and his work is frequently published in medical journals. He has been invited to deliver presentations at national and international meetings, as well as teaching and lecturing training oncologists and medical students.
Dasantha is a clinical lecturer at the University of Sydney, Director of Training at Royal North Shore Hospital for the Royal Australian and New Zealand College of Radiologists (RANZCR) and the president of the Faculty of Radiation Oncology Lung Interest Cooperative (FROLIC).
As a patient in Dasantha's care, you can be sure you're receiving the best evidence-based care from a leading oncologist, working as part of a dedicated multidisciplinary team.
Dasantha has played Sydney grade cricket for Campbelltown and Northern Districts cricket club and his proudest moment was hitting Russel Arnold (former international Sri Lankan test cricketer) for six in a tour match.