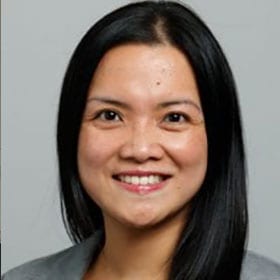 MBBS, FRANZCR, Radiation Oncologist
Clinical interest in gynaecological, lung, breast, and skin cancers.
Dr Carminia Lapuz graduated from the University of Melbourne and completed her training in radiation oncology at Calvary Mater Newcastle and Peter MacCallum Cancer Centre. She subsequently undertook a clinical research fellowship at Calvary Mater Newcastle in gynaecological cancers.
Carminia worked as a radiation oncologist at Alfred Health, Andrew Love Cancer Centre, Austin Health and Ballarat Regional Integrated Cancer Centre prior to joining GenesisCare. She continues to consult at the Olivia Newton John Cancer Wellness & Research Centre at Austin Health where her clinical interests include gynaecological and lung cancers.
Her research interests are in the areas of image guided radiotherapy and gynaecological brachytherapy. She is actively involved in registrar education and is the lead Phase 1 examiner for the Royal Australian and New Zealand College of Radiologists (RANZCR). She is the chair of the RANZCR special interest group, Gynaecological Oncology Radiation Oncology Collaboration (GOROC).
RANZCR Board of Examiners
Lapuz C, Dempsey C, Evans M, Ponman L, Patterson J, Oldmeadow C, Govindarajulu G, Sridharan S. The impact of planning target volume margins on four-field pelvic radiotherapy, intensity modulated radiotherapy and volumetric modulated arc therapy in cervical cancer: a dosimetric comparison. Journal of Nuclear Medicine and Radiation Therapy. Volume 10, Issue 3, 2019.
Lapuz C, Enjeti AK, O'Brien PC, Capp AL, Holliday EG, Gupta SA. Outcomes and relapse patterns following chemotherapy in advanced Hodgkin lymphoma in the positron emission tomography era. Blood and Lymphatic Cancer: Targets and Therapy. Volume 8, April 2018, pp 13-20.
Lee D, Greer P, Lapuz C, Ludbrook J, Hunter P, Arm J, Pollock S, Makhija K, O'Brien RT, Kim T, Keall P. Audiovisual biofeedback guided breath-hold lung tumor position reproducibility and volume consistency. Advances in Radiation Oncology. Volume 2, Issue 3, Jul-Sep 2017, pp 354-362.
Lapuz C, Kondalsamy-Chennakesavan S, Bernshaw D, Khaw P, Narayan K. Stage IB cervix cancer with nodal involvement treated with primary surgery or primary radiotherapy: Patterns of failure and outcomes in a contemporary population. Journal of Medical Imaging and Radiation Oncology. Volume 60, Issue 6, April 2016, pp 274-282.
Lapuz C, Dempsey C, Capp A, O'Brien PC. Dosimetric comparison of optimization methods for multichannel intracavitary brachytherapy for superficial vaginal tumors. Brachytherapy. Volume 12, Issue 6, Nov-Dec 2013, pp 637-644.