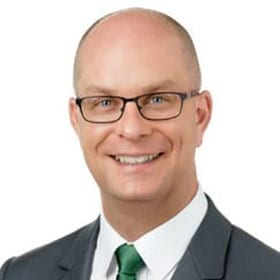 MBBS, BMedSc(Hons), FRANZCR, Radiation Oncologist
Clinical interests in breast, lung, skin, urological, gynaecological, haematological, prostate, and central nervous system (CNS) cancers, plus palliative care
Dr Andrew Potter studied at the University of Adelaide, graduating with a Bachelor of Medical Science (Honours) in 1998 and Bachelor of Medicine and Bachelor of Surgery in 2000. He undertook his specialist training in Radiation Oncology at the Royal Adelaide Hospital, before working as a Clinical Research Fellow at the Princess Margaret Hospital in Toronto, Canada, from 2008-2009 where he was awarded the RS Bush Award for Academic Excellence.
Dr Potter returned to Adelaide as a Consultant Radiation Oncologist at the Royal Adelaide Hospital in 2009. There he worked in a multidisciplinary cancer centre, developing sub-specialty knowledge in stereotactic radiation therapy treating children and young adults with cancer, and disease sites including melanoma, sarcoma, and malignancies involving the haematological and central nervous systems.
He maintains a clinical interest in all diseases where radiation therapy can be applied, including breast, lung, prostate brachytherapy, skin, gynaecological, central nervous system, and haematological cancers.
Dr Potter is closely involved in education and training of radiation therapy students, medical students and radiation oncology registrars. He lectures at the University of South Australia and is an examiner for the RANZCR Faculty of Radiation Oncology.
Dr Potter supports a variety of research activities, including the supervision of Honours and PhD students, clinical trials, and has contributed to a number of peer-reviewed research papers.
RANZCR
ASTRO
ESTRO
TROG
COGNO
ANZGOG
Member of the ESTRO Radiobiology Course teaching faculty
Devlin EJ, Whitford HS, Denson LA, Potter AE. 'Measuring up': A comparison of two response expectancy assessment formats completed by men treated with radiotherapy for prostate cancer. J Psychosom Res. 2020;132:109979.
Mullin SJ, Lochhead A, Haddad R, Kippen J, Paddon V, Joshua A, Koh K, Potter A, Fogarty GB. Keratoacanthomas following definitive volumetric modulated arc radiotherapy for skin field cancerization. Int J Radiol Radiat Ther. 2019;6(6):225-232.
Fogarty GB, Christie D, Potter AE. Volumetric modulated arc therapy (VMAT) for extended skin field cancerisation (ESFC): Radiobiological learnings from unique patient cases. Int J Radiol Radiat Ther. 2019;6(5):156-162.
Potter A, Price M, Papworth D, Melven L, Shaw I, Hayles M, Hellyer J, Buman K, Kaminski A, Schlect D, Wong B, Christie D, Izard MA, Holt NE, Fogarty GB. A technique for treating extended skin field cancerisation using volumetric modulated arc therapy. Int J Radiol Radiat Ther. 2019;6(4):111‒119.
Devlin EJ, Whitford HS, Denson LA, Potter AE. 'Just as I expected': A longitudinal cohort study of the impact of response expectancies on side effect experiences during radiotherapy for prostate cancer. J Pain Symptom Manage. 2019 Feb;57(2):273-281.
Andrew E. P., David C, Bradley W, Peter O'B., et al. & on behalf of the National Dermatology Radiation Oncology Registry (NDROR) investigators and sites (2022) 'Preliminary efficacy and safety analysis: 12-month results in 83 patients using a novel approach of widefield radiation therapy for extensive skin field cancerization with or without keratinocyte cancers'