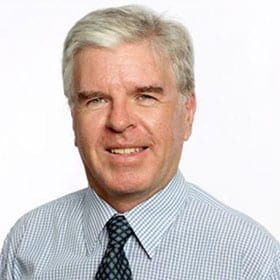 MBBS (HONS), FRACP, FAANMS, Nuclear Medicine Physician
Nuclear Medicine is a unique and interesting specialty combining diagnostics and treatment. It is an incredible period of growth currently
Expert in
Nuclear Medicine
Interested in
Nuclear medicine, PET/CT and theranostics
Special clinical interest in nuclear medicine, PET/CT and theranostics
Dr Paul Roach obtained his medical qualifications with honours from the University of Sydney and completed his residency training at Royal North Shore Hospital. He then undertook specialty training in Nuclear Medicine at Royal North Shore Hospital, Royal Prince Alfred Hospital and Harvard Medical School in Boston, U.S.A. (working at such prestigious institutions as the Brigham & Women's Hospital, the Dana Farber Cancer Institute, Beth Israel Hospital and the Childrens' Hospital, Boston). Subsequently, he has undergone training in PET imaging at St Thomas' Hospital, London.
Since 2000, he has been the Director of Nuclear Medicine at Royal North Shore Hospital, and in 2005 was made a Clinical Associate Professor of Medicine at the University of Sydney. He is also the Clinical Director of Nuclear Medicine for the Northern Sydney Local Health District.
Paul played a key role in the introduction of SPECT/CT technology in Australia as well as the installation of northern Sydney's first PET Scanner (at Royal North Shore Hospital) in 2010. He also played a key role in RNSH being recognised as a ENETs Centre of Excellence in neuroendocrine tumours, one of the few institutions outside of Europe awarded this status.
He is a past President of the Australasian Association of Nuclear Medicine Specialists (AANMS), and played a key role in securing Medicare funding for PET scans in patients with breast cancer, as well as securing Ga68 Dotatate PET/CT funding in patients with neuroendocrine tumours.
Dr Paul Roach consults at North Shore Private Hospital in Sydney.
Paul has a national and international reputation in various aspects of Nuclear Medicine, particularly in pulmonary imaging and he has over 100 peer-reviewed publications in various national and international journals. He has been involved in numerous research studies related to theranostics in neuroendocrine tumours and prostate cancer, and was lead author on the world's first large multicentre study assessing the management impact of Ga68 PSMA PET/CT scanning in patients with prostate cancer. He has been an investigator on major interenational trials related to prostate cancer, including TheraP and the ALSYMPCA trial.
Fellowships – FRACP, FAANMS
Memberships – EANM, SNMMI, ANZSNM
Roach PJ, Francis R, Emmett L, Hsiao E, Kneebone A, Hruby G, Eade T, Nguyen QA, Thompson BD, Cusick T, McCarthy M, Tang C, Ho B, Stricker PD, Scott AM. The impact of 68Ga‐PSMA PET/CT on management intent in prostate cancer: results of an Australian prospective multicenter study. J Nucl Med 2018, 59; 82-88
Chan DLH, Pavlakis N, Schembri GP, Bernard EJ, Hsiao EM, Hayes A, Barnes T, Diakos C, Khasraw M, Samra J, Eslick E, Roach PJ, Engel A, Clarke SJ and Bailey DL. Dual Somatostatin Receptor/FDG PET/CT Imaging in Metastatic Neuroendocrine Tumours: Proposal for a Novel Grading Scheme with Prognostic Significance. Theranostics 2017, 7;1149-1158
Emmett L, Tang R, Nandurkar R, Hruby G, Roach PJ, Watts J, Cusick T, Kneebone A, Ho B, Chan L, van Leeuwen P, Scheltema M, Nguyen A, Yin C, Scott A, Tang C, McCarthy M, Fullard K, Roberts M, Francis R and Stricker P: 3-year freedom from progression following 68GaPSMA PET CT triaged management in men with biochemical recurrence post radical prostatectomy. Results of a prospective multi-center trial. J Nucl Med Nov 2019
Roach PJ, Gradinscak D, Schembri GP, Bailey EA, Willowson K, Bailey DL. SPECT/CT in V/Q scintigraphy. Seminars in Nuclear Medicine, 2010; 40, 455-466
Roach PJ, Bajc M. Imaging acute pulmonary embolism. New England Journal of Medicine 2010; 363; 1972-3