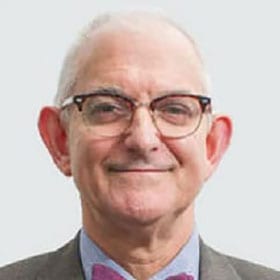 MBBS FRANZCR MRACMA, Radiation Oncologist
I aim to assist my patients to the best of my ability through coordinated total care that is evidenced based.
Languages Spoken
English, French
Expert in
Gastrointestinal, neurological, and head and neck.
Interested in
Italian or French cuisine,  long distance running with his border collies and friends, and cycling.
Special clinical interests in gastrointestinal, neurological, and head and neck
David trained at Royal Melbourne Hospital and Peter MacCallum Cancer Centre before moving to the Calvary Mater Hospital in Newcastle, NSW. Here, together with several dedicated colleagues, he formed the Trans Tasman Radiation Oncology Group (TROG) and the Australasian Brachytherapy Group. He moved to Geelong, to set up the city's first radiation oncology service, and then to Perth as the director of radiation oncology at Sir Charles Gairdner Hospital.
David is a clinical professor at the University of Western Australia, adjunct professor at Edith Cowan University and an honorary associate of the University of Sydney. He consults with GenesisCare in Wembley and Albany.
Together with Professor Keith Kaye, David was instrumental in developing the first prostate seed brachytherapy program. After pioneering the technique in Australia, he provided training to all Australian and New Zealand centres.
His work as the international co-chair on the TARGIT trial, which evaluated the use of intraoperative radiotherapy in women aged over 50 with early breast cancer, lead to two publications in the Lancet and changed the management of patients with this disease.
He was the Australian chair and principal investigator for the RADAR trial. In association with Professor Jim Denham and the TROG group, the study examined the use of hormonal therapy and radiotherapy techniques in prostate cancer and demonstrated that hormonal therapy plus radiation therapy reduces the risk of death by half.
David's philosophy is to translate the results of research into clinical practice and to practice evidence based medicine. Recognised internationally for his services to oncology and his dedication to research and teaching, he has over 500 publications to his name and has been a principal investigator and collaborator on numerous leading international clinical trials. In 2019, he was awarded the Research Excellence Award by the Cancer Council.
Did you know?
David has strong family values and is married with a son and two daughters. To burn off his love of good Italian or French cuisine, he enjoys long distance running with his border collies and friends, or cycling.
David's key interests are clinical cancer and translational research across breast, prostate, colorectal, thoracic and neurological tumours.
Trans Tasman Radiation Oncology Group (TROG)
Australia New Zealand Breast Cancer Trials Group (ANZBCTG)
Australasian Gastro-Intestinal Trials Group (AGITG)
European Society for Radiotherapy and Oncology (ESTRO)
American Society of Clinical Oncology (ASCO)
American Society for Radiation Oncology (ASTRO)
Cooperative Trials Group for Neuro-Oncology (COGNO)
European Organisation for Research and Treatment of Cancer (EORTC)