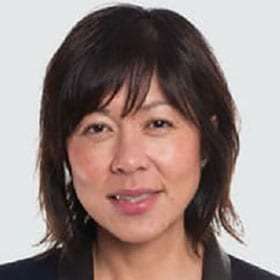 MBBS, FRANZCR, Radiation Oncologist
Trust. Wish. Hope. Believe. As an oncologist, I am in a very privileged position to be able help those in need of cancer care.
Languages spoken
English, Mandarin, Hokkien
Clinical interests include breast, urological, gastrointestinal, gynaecological cancers, gynae brachytherapy and haematology
Serena completed her medical degree at the University of Western Australia (WA) in 1993. She subsequently undertook specialist training in radiation oncology at Royal Perth Hospital (RPH) and Sir Charles Gairdner Hospital, as well as at the Alfred Hospital and Peter MacCallum Cancer Institute in Melbourne. With a focus on gynaecological and urogenital cancers, she held research fellowships at the Alfred Hospital, Royal Perth Hospital and King Edward Memorial Hospital for Women.
Serena is head of the Department of Radiation Oncology at Fiona Stanley Hospital as well as the Gynaecological Radiation Oncology Unit in WA. She is one of only two radiation oncologists who specialise in the treatment of gynaecological malignancies in the state, and is highly experienced in the use of brachytherapy.  She also sits on Cancer Australia's Advisory Council, a position appointed by the Minister for Health.
Committed to the continued improvement of patient care through research and the delivery of advanced treatment techniques, Serena has also been involved in a number of publications on the subject of prostate and gynaecological cancers.
Did you know?
Serena is married with two children. She treasures her family life and how children make you believe that anything is possible. Family holidays are usually spent travelling and skiing. Serena also enjoys street food, laughing, handbags, and the odd pilates class or game of tennis and golf.
Serena's key interests include the treatment of urological, breast, haematological, gastrointestinal and skin malignancies, as well as palliative conditions.
Australian Medical Association (AMA)
Royal Australian and New Zealand College of Radiologists (RANZCR)
Trans Tasman Radiation Oncology Group (TROG)
American Society for Radiation Oncology (ASTRO)
European Society for Radiotherapy and Oncology (ESTRO)
Australia and New Zealand Urogenital and Prostate Cancer Trials Group (ANZUP)
Australia New Zealand Gynaecological Oncology Group (ANZGOG)