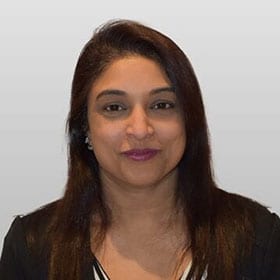 MBBS, FRACP, Medical oncologist
Languages spoken
English, Hindi, Telugu
Clinical interests in breast, gastrointestinal (GI), urogenital, head and neck, and lung cancers, plus melanoma and palliative care.
Dr Renuka Chittajallu is trained in General Oncology and treats many adult solid tumour types. She completed her Medical Oncology training at St George and Prince of Wales Hospitals; and was awarded FRACP in 2013.
Since then, Renuka has been providing Medical Oncology service at Riverina Cancer Care Centre with outreach clinics to Griffith Oncology. She has gained experience whilst working at different locations in both the private and public setting.
Renuka brings a unique skill set and experience with her initial specialist training at Peter MacCallum Cancer Centre, Melbourne in the field of Palliative Care. Her patients have access to knowledge and experience across both specialities and a lovely caring nature.
Renuka is actively involved in multidisciplinary care of patients and meets regularly with the respective multidisciplinary teams at Nepean Hospital and Riverina Cancer Care Centre, Wagga Wagga.
As well as her clinical interests, Renuka educates undergraduate medical students from UNSW Rural Clinical School. Renuka regularly mentors and teaches junior doctors and is an examiner for Adult Medicine RACP Divisional clinical examinations. Renuka also educates GPs about the recent advances in cancer management across different tumour streams.
Renuka is multilingual and experienced in meeting the needs of various culturally and linguistically diverse communities. Renuka enjoys a good book, cooking, travelling; and stays fit with regular outdoor activities and the gym.
Renuka is the Director of Clinical Trials at Riverina Cancer Care Centre. She was involved with the first pharma based clinical trial to start at Riverina Cancer Care Centre. The unit is now actively involved in clinical trials and research with patient enrolment in investigator-initiated, pharmaceutical, and collaborative group trials. Her clinical research interest has given regional patients an opportunity to access the latest treatment developments