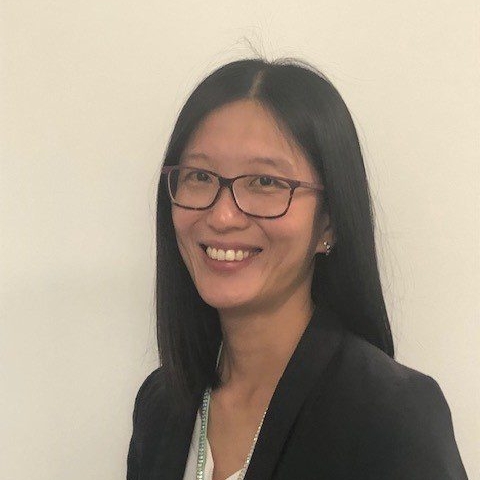 MA MBBChir (Cantab) FRACP PHD, Medical Oncologist
Languages spoken
English, Mandarin, Cantonese, Malay
Clinical interest in lung cancer, mesothelioma, oesophageal cancer, gastric cancer, pancreatic cancer, biliary cancer and colorectal cancer.
After completing her medical schooling at the University of Cambridge and then physician training, Pei moved to Australia with the aim to further her physician training and she also completed her medical oncology training in 2011. During her time studying at Cambridge she was recognised as Scholar for Christ's College, awarded the Cambridge Commonwealth Trust Bursary, and the William Harvey Prize for clinical exam.
Following this, she developed an interest in translational research, and undertook PhD research at Liverpool Hospital and the Ingham Institute where she was awarded a postgraduate PhD scholarship and Lung Foundation grant for her study into advanced lung cancer.
Pei was appointed as staff specialist for medical oncology at Nepean Blue Mountains Local Health District in 2019, with clinical interests in lung and gastrointestinal (GI) cancers. Pei is passionate about precision medicine and has experience in treatments such as chemotherapy, targeted therapy, and immunotherapy.
Pei is actively involved in clinical research and trials. She is passionate about teaching and supervision of junior medical doctors as well as medical oncology trainees and PhD students.
In her spare time, Pei enjoys cooking and spending time exploring outdoors with her husband and sons.
During her career Pei has been recognised with the Thomas Ashworth Symposium 'Most Outstanding Presentation' Prize, the Lung Foundation Grant-in-aid in Lung Cancer Research in 2016, Astra Zeneca Independent Research Grant, 2017, and ALTG Young Investigator Award in 2019.
Pei's PhD research focused on modern techniques in the treatment of advanced lung cancer.
Royal Australasian College of Physicians (RACP)
American Society of Clinical Oncology (ASCO)
European Society of Medical Oncology (ESMO)
Thoracic Oncology Group Australia (TOGA)
Lung Foundation
The Australasian Gastro-Intestinal Trials Group (AGITG)
Plasma pre-treatment T790M relative allelic frequency in patients with advanced EGFR-mutated non-small cell lung cancer predicts treatment response to subsequent-line osimertinib. Ding PN, Roberts TL, Chua W, Becker TM, Caixeiro N, de Souza P, et al. Translational Lung Cancer Research. 2021;10(4):1623-34
Plasma next generation sequencing and droplet digital PCR-based detection of epidermal growth factor receptor (EGFR) mutationis in patients with advanced lung cancer treated with subsequent-line osimertinib. Ding PN, Becker, T, Bray V, Chua W, Ma Y, Xu B, Lynch D, de Souza P, Roberts T Thoracic Cancer 2019 Oct; 10 (10): 1879-1884
The predictive and prognostic significance of liquid biopsy in advanced epidermal growth factor receptor-mutated non-small cell lung cancer: A prospective study. Ding PN, Becker TM, Bray VJ, Chua W, Ma YF, Lynch D, Po J, Luk AWS, Caixeiro N, de Souza P, Roberts TL. Lung Cancer. 2019 Aug;134:187-193
Droplet digital PCR-based detection of EGFR mutations in advanced lung cancer patient liquid biopsies: A comparison of circulating tumor DNA extraction kits Ding PN, Ma YF, Roberts TL, Chua W, Bray VJ, Lynch D, Burke D, de Souza P, Becker TM. Journal of Mol Biomarkers and Diagnostics. 2018; 9(397)
Clinical outcomes in patients with advanced EGFR-mutated non-small cell lung cancer in South Western Sydney Local Health District. Ding PN, Roberts TL, Chua W, Becker TM, Descallar J, Yip PY, Bray VJ. Intern Med J. 2017 Dec; 47 (12): 1405-1411.
Risk of Treatment-Related Toxicities from EGFR Tyrosine Kinase Inhibitors: A Meta-analysis of Clinical Trials of Gefitinib, Erlotinib, and Afatinib in Advanced EGFR-Mutated Non-Small Cell Lung Cancer. Ding PN, Lord SJ, Gebski V, Links M, Bray V, Gralla RJ, Yang JC, Lee CK. J Thorac Oncol. 12:633-643, 2017
Impact of Specific Epidermal Growth Factor Receptor (EGFR) Mutations and Clinical Characteristics on Outcomes after treatment with EGFR Tyrosine Kinase Inhibitors vs Chemotherapy in EGFR-mutant Lung Cancer: A Meta-Analysis Lee CK, Wu YL, Ding PN, Lord SJ, Inoue A, Zhou C, Mitsudomi T, Rosell R, Pavlakis N, Links M, Gebski V, Gralla RJ, Yang JC. J Clin Oncol. 2015 Jun 10; 33(17): 1958-1965