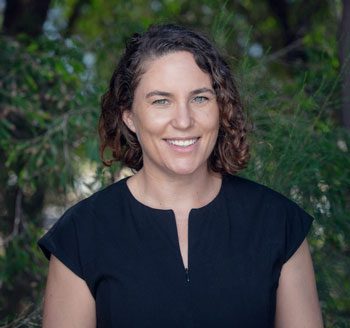 MBBS(Hons), FRANZCR, Radiation Oncologist
I aim to treat each patient using evidence-based medicine, modern technology, and supportive care to help offer the best possible clinical outcomes.
Clinical interests in breast cancer, neuro-oncology, and palliative care.
Nina completed her Bachelor of Medicine and Surgery at the University of Western Australia (UWA) with honours in 2008 and began her medical career at Fremantle Hospital followed by community programs in the Kimberley and in palliative care.
She commenced specialist training in radiation oncology at Prince of Wales Hospital (NSW) in 2014. This was followed by a clinical research fellowship in breast and central nervous system (CNS) tumours at Fiona Stanley Hospital where Nina helped develop a treatment protocol to examine radiation therapy planning CT scans as a way to help estimate a patient's risk of potential future coronary artery disease.
Nina has been an examiner of medical students at UWA and UNSW and continues to lecture current radiation oncology trainees.  She is also a member of the RANZCR palliative care working group and is a board certified lifestyle medicine practitioner.
Nina's clinical interests include breast cancer, neuro-oncology, palliative care, stereotactic radiation therapy, value based health care, patient experience, and outcome measures. She also has an interest in the benefits of integrative medicine.
Royal Australian New Zealand College of Radiologists (RANZCR)
American Society for Radiotherapy and Oncology (ASTRO)
European Society for Radiotherapy and Oncology (ESTRO)
Trans-Tasman Radiation Oncology Group (TROG)
Society for Integrative Oncology (SIO)
Australasian Society of Lifestyle Medicine (ASLM)
Ali A, Dumbrava M, Riddell K et al. Correlation between initial tumour volume and treatment duration on dabrafenib: cohort study of subjects with BRAF mutant melanoma on the BRF112680 trial, BMC Cancer. 2020;20(1):342. doi: 10.1186/s12885-020-06848-8
Stewart N, Wong W, Smee R et al. Clinical results of stereotactic radiotherapy for choroidal melanoma using external eye fixation – the Prince of Wales Hospital experience.  Presented at the Royal Australian and New Zealand College of Radiologists (RANZCR) Annual Scientific Meeting 2016.  Accessed 23/06/21: click here to watch.
Ebert M, Foo K, Haworth A et al. Derivation and representation of dose-volume response from large clinical trial datasets: an example from the RADAR prostate radiotherapy trial. J Phys Conf Ser 2014;489 012090. doi:10.1088/1742-6596/489/1/012090