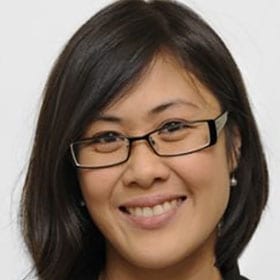 MBBS (USyd) FRANZCR, Radiation Oncologist
Clinical interest in breast, gynaecological and gastrointestinal cancers.
Dr Marita Morgia completed her undergraduate medical degree at Sydney University in 1999 and undertook specialist radiation oncology training at the Wollongong Hospital and Royal North Shore Hospital before completing a clinical research fellowship at the Princess Margaret Hospital in Toronto, Canada. Her research and subspecialty training was in breast and gynaecological malignancies. Dr Morgia returned in 2011 to join the Northern Cancer Centre at Royal North Shore Hospital as a staff specialist and provides a radiation oncology service that has a personalised approach to patient care with a holistic focus.
Dr Morgia has an interest in the management of breast, gynaecological and gastrointestinal malignancies. She has been instrumental in developing protocols within her institution, including pelvic intensity modulated radiotherapy (IMRT), image guided brachytherapy, breast IMRT and a modified deep inspirational breath-hold technique in breast radiotherapy. She is actively involved in research in these areas, and has published in both national and international peer-reviewed journals. She is part of the clinical trials unit at Royal North Shore Hospital which supports both intra- and inter-institutional research studies, providing patients with the best access to evidence-based care. She is a member of Trans-Tasman Radiation Oncology Group (TROG), the Australasian Society for Breast Disease (ASBD), Australia and New Zealand Breast Cancer Trials Group (ANZBCTCG), and is on the executive for the RANZCR breast special interest group BIG-FRO.