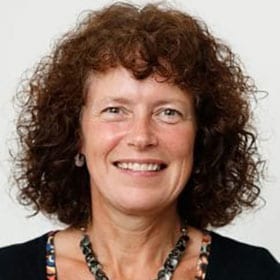 MBChB, FRANZCR, Radiation Oncologist
Special clinical interest in breast.
Dr Karen Taylor, MBChB, FRANZCR. Dr Karen Taylor has been a Radiation Oncologist for two decades. Karen initially trained as a Physician in the United Kingdom in the 1980s, completing her Masters in Oncology in Edinburgh in 1995. She came to Australia in 1997, and practised general Radiation Oncology until 2003, after which she sub-specialised in breast cancer management.
Karen has provided a consultation Radiation Oncology service at Cabrini Malvern for over fifteen years.
Karen has an interest in optimising dose and delivery of breast radiation therapy and has been involved in the introduction of Intensity Modulated Radiation Therapy and Deep Inspiration Breath Hold techniques for breast cancer treatment. She is also involved in optimising radiation treatment both before/after breast reconstruction. Karen is passionate about clinical research, and contributes to both Australian and International trials. She is an Adjunct Senior Lecturer at Monash University.