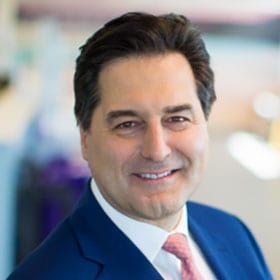 MBBS FRACP FRANZCR, Radiation Oncologist
Languages spoken
English, Italian
Clinical interests in urogenital, gastrointestinal (GI), lymphoma, and palliative care.
Dr Joseph Bucci trained in Medical and Radiation Oncology, and has more than 17 years' experience in the treatment of a number of different types of cancer, with a clinical research interest in quality assurance in brachytherapy. He has a particular interest in the management of urological malignancies.
Dr Bucci trained in prostate brachytherapy at the British Columbia Cancer Agency in 2000-01 in Vancouver. He has held senior positions at the St. George Hospital Cancer Centre and the St. George Private Hospital.
He attained his fellowship in Medical Oncology in 1997 and went on to attain a Fellow of the RANZ College of Radiologists in 2000. He is the ex-Chair of the Australian Brachytherapy Group a position which he held from 2011 to 2013. Teaching is an important part of his professional life; he is a conjoint senior lecturer at the University of NSW and University of Wollongong.