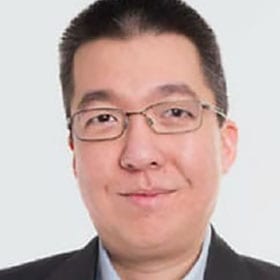 MBBS, FRANZCR, Radiation Oncologist
My aim is to achieve the best possible outcome for every patient in my care, taking into account their treatment options & preferences.
Languages spoken
English, Mandarin
Expert in
Lung cancer, Prostate cancer, Skin cancer
Special clinical interests in urological, gastrointestinal, lung, and Stereotactic Radiotherapy
Evan completed his medical degree at the University of Western Australia (UWA) and began his career in medicine at Fremantle Hospital. He went on to complete specialist training in radiation oncology at Sir Charles Gairdner Hospital and Royal Perth Hospital.
Having a keen interest in education, Evan was appointed to the Education Board with the Royal Australian and New Zealand College of Radiologists, enabling him to contribute to the development of the radiation oncology training program. He has also been involved with the Faculty of Medicine and Dentistry at UWA, participating in the interview process of prospective medical and dental school students.
After a postgraduate fellowship with GenesisCare in Western Australia, Evan set out to further enhance his knowledge overseas. He perfected his skills in stereotactic body irradiation and image guided radiotherapy in New York, working at the Memorial Sloan Kettering Hospital and Mount Sinai St Luke's- Roosevelt hospitals.
Evan is the director of radiation oncology training at Fiona Stanley Hospital and leads GenesisCare's skin cancer research and treatment program in Western Australia.
Did you know?
Evan is a bit of a sports fan. He's an avid golfer and also a keen snowboarder. When conditions are right, you'll find him jetting off on holiday in search of powder snow and a bit of après-ski.
Locations
Joondalup
Fiona Stanley Hospital
Wembley
Evan is particularly interested in stereotactic body irradiation, upper and lower gastrointestinal tumours, lung malignancies, skin cancer and prostate cancer. His interest in testosterone suppression and recovery after treatment in prostate cancer has resulted in several publications and poster presentations.
Royal Australian and New Zealand Urogenital and Prostate Cancer Trials Group (ANZUP)
Education Board Member, Royal Australian and New Zealand College of Radiologists (Faculty of Radiation Oncology)