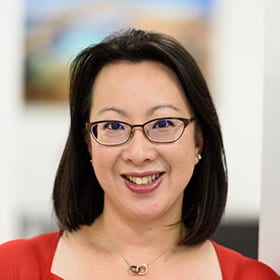 BPhysio (Hons), MBBS (Hons), FRANZCR, Radiation Oncologist
Special clinical interests in breast, lung, neurological, skin cancers and general oncology.
Dr Esther Sim is a consultant Radiation Oncologist with GenesisCare, Berwick and Frankston, Victoria. Esther was appointed as a Fellow of the Royal Australian and New Zealand College of Radiologists (RANZCR) in 2017 after completing specialist training at the Royal Brisbane and Women's Hospital, Princess Alexandra Hospital and Genesis CancerCare in Brisbane.
Esther was awarded the Uhr Clark Bursary in 2016 for being the most successful Queensland examination candidate in radiation oncology. Following this, Esther pursued a Stereotactic Fellowship at the Alfred Hospital, Melbourne, where she gained extensive experience in the utilisation of this specialised technique in the management of malignant and benign central nervous systems tumours, and lung, liver and bony cancers.
She graduated from the University of Queensland in 2007 with a Bachelor of Medicine and Surgery with Honours. She was previously a Physiotherapist, graduating from the University of Melbourne with Honours in 2000.
Esther has a strong interest in research, and in 2018 was the lead author of a Cochrane review. She has been involved with eviQ protocol development in gynaecological cancers, and the palliative management of brain and bone cancers. She is an associate lecturer and examiner at the University of Queensland School of Medicine.
Esther has tumour stream interests in the multidisciplinary management of breast, lung, central nervous system and skin cancers.
Consults at:
Frankston
Berwick (Oncology)
Baw Baw Physicians, Warragul