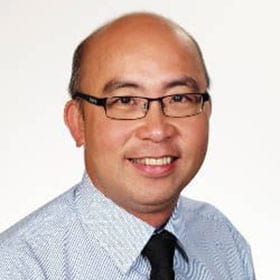 MBBS, FRANZCR, FRACP, Radiation Oncologist
Clinical interests in urological, breast, skin, lung, gastrointestinal, gynaecological, and head and neck cancers, plus haematology.
Eddy obtained his MBBS at the University of Queensland in 1995. He then completed his radiation oncology fellowship training at Launceston General Hospital learning new skills in intensity-modulated radiation therapy (IMRT), volumetric modulated arc therapy (VMAT), and different types of high dose-rate (HDR) brachytherapy for diverse types of cancers. He has since gained experience in treating prostate cancer, skin cancer, and gynaecological cancers. He is a member of HUME RICS (Regional Integrated Cancer Service), and attends clinical governance meetings and multidisciplinary meetings for breast, urology and gastrointestinal cancers at Albury Wodonga Health. Eddy also attends a monthly general multidisciplinary meeting in Wangaratta and has a monthly outpatient clinic there as well.