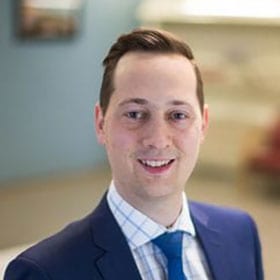 MBBS, BAppSc Optom (Hons), FRANZCR, Radiation Oncologist
Languages spoken
English, Serbian, Croatian, Bosnian
Clinical interests include head and neck, skin, neurological, breast, stereotactic radiosurgery/radiotherapy and brachytherapy
Dr Andrej Bece is a Radiation Oncologist who is dually passionate about modern radiation therapy technologies and delivering compassionate cancer care. He chairs the Head & Neck and Skin Multidisciplinary Meeting and Clinic at St George Hospital and attends the Neuro-Oncology, Breast and Upper Gastrointestinal MDTs.
Dr Bece is involved in medical education and contributing to the training of future doctors. He is Conjoint Lecturer at UNSW where he teaches and supervises undergraduate medical students. Dr Bece is the Phase I Teaching Co-ordinator for NSW/ACT, a regular lecturer at the HETI Basic Sciences of Oncology program and on the faculty of the RANZCR Phase I Course. At a national level he is involved in a number of Committees and Working Groups of the Royal Australian & New Zealand College of Radiologists working to improve the training of radiation oncologists.
Dr Bece is committed to quality improvement through clinical research and is a principal investigator of a number of clinical trials at St George Hospital. He has published research in peer-reviewed journals, presented locally and internationally, and been invited speaker at a number of conferences. Dr Bece has contributed to the development of national clinical practice guidelines as a member of eviQ Reference Committees. He is Chair of the Australasian Brachytherapy Group, a member of TROG, COGNO and ANZPROG (RANZCR Australian and New Zealand Palliative Radiation Oncology Group).
Dr Bece consults at GenesisCare Waratah Private and is a staff specialist at St George Hospital.