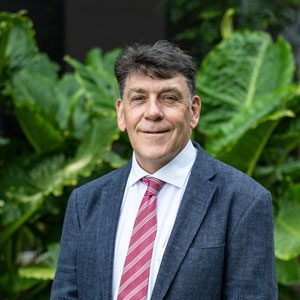 FRANZCR GradDipPsyOnc MBA PhD, Radiation Oncologist
Clinical interest in neuro-oncology, brain tumour and brain metastases.
Michael is a Radiation Oncologist and Neuro-oncologist who has been interested in the management of brain tumours for more than 25 years. He has been an opinion leader active in developing and expanding multidisciplinary neuro-oncology services in major university teaching hospitals within NSW and South East Asia. With a strong emphasis on patient-centred care, and empowerment through information provision, Michael has generated a large clinical practice encompassing evidence-based care and technology. In 2020 he completed a PhD through the University of Sydney titled 'Optimising the Management of Anaplastic Glioma in the era of Molecular Classification.
Michael has NSW Health appointments at the Royal North Shore and Gosford Hospitals and a conjoint academic role through the University of Sydney. In the NSW GenesisCare network he manages patients under his Sydney Brain Tumour Clinic at the Mater Hospital, Macquarie University Hospital, St Vincent's Clinic and Hurstville Waratah Medical Centre.
Michael is passionate about offering personalised, evidence-based care, working within a multidisciplinary team to offer best possible patient outcomes.
Michael is interested in brain tumour clinical research. With Michael's involvement, a large volume of neuro-oncology outcome research data has been published with more than 30 peer-reviewed journal publications in the past five years.
Through The Brain Cancer Group (TBCG) he established TBCG Imaging Laboratory, as a way to help offer optimal patient care.
COGNO (Aust Neuro-oncology Clinical trials)
The Brain Cancer Group Sydney
Former Cancer Council NSW Board Member
Society of Neuro-oncology (USA)
British Neuro-oncology Society (UK)
Back M, Jayamanne DT Back E, Khasraw M, Wong M, Brown C, Wheeler H. "Reflecting on survivorship outcomes to aid initial decision-making in patients managed for IDH mutated Anaplastic Glioma" Cancer. 2019;125(19):3457-3466.
Back M, Jayamanne DT, Khasraw M, Kastelan M, Brown C, Wheeler H. "Early pattern of failure involving distant brain sites and ventricular spread in patients with Anaplastic Glioma and IDH mutation" Strahlenther Onkol. 2020;196(1):31-39.
Or M, Jayamanne D, Guo L, Stevens M, Parkinson J, Cook R, Little N, Back M. Focal radiation therapy for limited brain metastases is associated with high rates of local control and low subsequent whole brain radiation therapy. ANZ J Surg. 2019 Mar 5. doi: 10.1111/ans.15040.
Jayamanne D, Wheeler H, Cook R, Teo C, Brazier D, Schembri G, Kastelan M, Guo L, Back MF. Survival improvements with adjuvant therapy in patients with glioblastoma. ANZ J Surg. 2018 Mar;88(3):196-201.
Perry J, Laperriere N, O'Callaghan C, Brandes A, Menten J, Phillips C, Fay M, Nishikawa R, Cairncross G, Roa W, Osoba D, Rossiter J, Sahgal A, Hirte H, Laigle-Donadey F, Franceschi E, Chinot O, Golfinopoulos V, Fariselli L, Wick A, Feuvret L, Back M, Tills M, Winch C, Baumert B, Wick W, Ding K, Mason W.  Short-Course Radiation with Temozolomide in Elderly Glioblastoma Patients. N Engl J Med. 2017 Mar 16; 376(11):1027-1037.