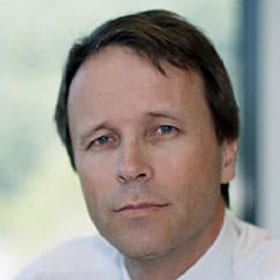 MBChB, FRANZCR, Radiation Oncologist
Clinical interests in urological (including prostate) cancers, and skin cancers plus benign conditions suitable for radiation therapy.
Professor David Christie is based on the Gold Coast and attends GenesisCare treatment centres at Tugun and Southport. He also attends clinics at Pindara Private Hospital and in Northern NSW (Ballina).
David qualified in Medicine from New Zealand's University of Otago in 1987 and completed Radiation Oncology training in Sydney in 1995, at which time he moved to Queensland and commenced full-time practice. David has experience in treating many cancer types that require radiation therapy, however he has a clinical interest in urological cancers including prostate.
He has research and teaching roles with the University of New England as well as Bond and Griffith Universities. Special clinical interests include urological cancer (including prostate), skin cancer (including wide field radiotherapy), benign diseases (including dupuytren's disease), lymphoma and patients eligible for clinical trials.
Until recently, he was an editor for the only Radiation Oncology medical journal that is based in Australia, JMIRO. He is currently the chair of the Faculty of Radiation Oncology Genitourinary Group (FROGG).
Consults at:
Tugun
Southport
Pindara Private Hospital
Ballina
Trans-Tasman Radiation Oncology Group (TROG)
Journal of Medical Imaging & Radiation Oncology (former Editor)
Bond University
Griffith University
University of New England
Faculty of Radiation Oncology Genitourinary Group (FROGG)