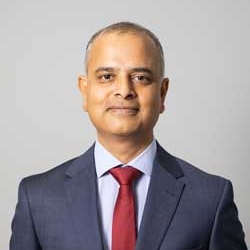 MBBS MRCP (UK) FRCR (UK) FRANZCR, Radiation Oncologist
Languages spoken
English, Tamil, Hindi
Expert in
Genitourinary (particularly prostate), lung, breast, colorectal and gastrointestinal cancers and SABR, VMAT, IGRT, DIBH
Special clinical interests in genitourinary (particularly prostate), lung, breast, colorectal and gastrointestinal cancers.
Dr Sagar Ramani is based on the Gold Coast and attends GenesisCare Tugun and Southport treatment centres.
Dr Ramani qualified in Chennai, India in 1997 and moved to the UK for higher education. He completed postgraduate training in Internal Medicine (MRCP 2002) followed by completion of specialist training in Clinical Oncology (FRCR 2007) in the UK. The same year he completed postgraduate studies in Oncology from Liverpool University, UK. After a one year post fellowship training he commenced practice as a specialist Clinical Oncologist in Clatterbridge Cancer Centre from 2008.
Sagar moved to Australia in late 2011 for family reasons and started working as a specialist Radiation Oncologist. He was successful in obtaining Fellowship of The Royal Australia New Zealand College of Radiologists (FRANZCR) in 2013.
His special interests include genitourinary, lung,  breast, colorectal and gastrointestinal cancers. Sagar has expertise in the latest radiation technologies such as Volumetric Modulated Arc Therapy (VMAT), Image Guided Radiotherapy (IGRT), Stereotactic Ablative Body Radiotherapy (SABR) and Contact Therapy for rectal cancer. He is an active member of the GenesisCare Queensland research committee as well as the Trans-Tasman Radiation Oncology Group (TROG) and is involved in recruiting patients in clinical trials. Sagar holds membership of professional organisations such as RANZCR, ASTRO and RCR.
He was the chair of the SABR lung program in GenesisCare Queensland since its inception in 2014 till 2019. He was the Director of Training (DoT) for RANZCR trainee registrars on the Gold Coast from February 2015 to June 2018. He previously served as the Reginal Medical Director for GenesisCare Gold Coast from June 2018 to June 2020. Sagar is an active member of the Queensland SABR working group and has been actively involved in the development of a national radiation oncology portal for GenesisCare.
He has visiting and admission rights to John Flynn Private Hospital, Pindara Private Hospital, and Gold Coast Private Hospital. Sagar attends various multidisciplinary meetings on the Gold Coast and Tweed.
Dr Ramani has experience in combined modality treatments (including chemotherapy and immunotherapy).